Tunnel Vision
6 journalers for this copy...
It's 5am and Andy has made a terrible mistake. He's accepted a bet to try to travel round the entire London Underground in one day. If that wasn't bad enough, the day he has to complete his bet is the eve of his wedding. And, to make things even worse, he surrendered hes passport, honeymoon tickets and credit cards the previous night. If he doesn't finish, he won't be going anywhere...

Andy's long-suffering girlfriend, Rachel, is not impressed. He's going to have to race against the clock to win his bet - and save his relationship. Accompanied against his will by a homeless tramp called Brian, Andy is forced to face up to some uncomfortable home truths about dodgy choices. What possessed him to rick everything he thought mattered?

A touching and funny debut novel, full of insight into why men have obsessions and women tolerate them.

************************************************************************
Released at Bookcrossing meetup, James Squire Brewhouse, 16/01/07
---
Picked up at the meet up, I forgot to journal this before I stacked it on my Mt TBR, sorry.

Not a bad book, very frentic pace, but that's understandable. Not really the sort of thing I'd read very often though. Not really sure what I'll do with this one, probably drop it off back where I got it at the next meetup, on my way to a Violent Femmes concert.
---
Journal Entry
3
by
silvermoonwyrm
at
Lion Hotel, Melbourne Central in Melbourne CBD, Victoria Australia on Monday, February 12, 2007
Released 13 yrs ago (2/13/2007 UTC) at Lion Hotel, Melbourne Central in Melbourne CBD, Victoria Australia
WILD RELEASE NOTES:
RELEASE NOTES:

Dropping off at Melb meetup
---
Picked up a few months ago at meetup. Forgotten until I was on my way to the next one.

Read on the train to and home from the June Sunday brunch meet. (Might have been worth releasing at a station, but there is nowhere safe at my stop and I finished reading too late to leave it at Spencer Street.)

Interesting read, though it's a bit hard to sympathise with Andy.
---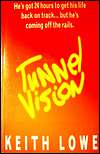 → different cover ←
Picked it up tonight at the meet-up at the 'Royal Melbourne Hotel', 629 Bourke Street, Melbourne. Sounds like it might make me smile... looking forward to it... ;-)
03/11/2007: Finished this book two days ago and must say that it made a couple of my trips on the public transport here in Melbourne a little more enjoyable. It's definitely not going to be my favorite book, but I think that people who actually know London - and the Underground - a bit better than me, can relate much more to this story and therefore have a fun read. I must say that the story had an ending I absolutely didn't expect - I love books like that! ;-)
Will now try to think of a good place to release this one so many more will be able to enjoy it as well.
Gelesen im Rahmen der
1 Jahr = 1 Land Challenge
für England.
---

Journal Entry
6
by
UbSiA
at
Starbucks, City Square (Cnr Swanston & Collins St) in Melbourne CBD, Victoria Australia on Monday, November 26, 2007
Released 12 yrs ago (11/26/2007 UTC) at Starbucks, City Square (Cnr Swanston & Collins St) in Melbourne CBD, Victoria Australia
WILD RELEASE NOTES:
RELEASE NOTES:

left it on the Starbuck's bookshelf
---

Journal Entry
7
by

AnonymousFinder

on Saturday, March 22, 2008
Great, soo funny!! Very entertaining!

CAUGHT IN MELBOURNE VICTORIA AUSTRALIA
---
I got the book from an italian travel mate when I was travelling through Australia. I started reading it in February 2008 and just continued a few weeks ago. Now Im back home in Germany for almost 18 months but the book keeps up my lovely memories from Downunder. Thanks Silvia for the book! Had a blast of a time. But still I have to finish up the book to place in a random bookshelf when Im going to hit the road again!

CAUGHT IN ST.KILDA BEACH, MELBOURNE VIC AUSTRALIA
---