Star Trek: The Dominion War #1 of 4 - Behind Enemy Lines
1 journaler for this copy...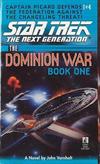 Received on the 27th as a wonderful Christmas gift from my mom! TBR
From the front cover:
1 of 4
CAPTAIN PICARD DEFENDS THE FEDERATION AGAINST THE CHANGELING THREAT!
STAR TREK: THE NEXT GENERATION
THE DOMINION WAR BOOK ONE
A Novel by John Vornholt
From the back cover:
From the Gamma Quadrant they came -- hordes of fierce Jem'Hadar warriors commanded by the mysterious Changelings, who will stop at nothing to achieve victory over both the United Federation of Planets and the Klingon Empire. Now that the Dominion has entered into an unholy alliance with the Cardassian military regime and seized control of
Deep Space Nine
, Starfleet finds itself fighting a losing war against unbeatable odds. As mighty fleets clash in the deadly battleground of space, the fate of the entire Alpha Quadrant hangs in the balance.
STAR TREK: THE NEXT GENERATION
THE DOMINION WAR BOOK ONE
The
Enterprise
-E is patrolling the Cardassian border, bracing the for the joint Dominion-Cardassian offensive that Starfleet knows will come soon, when Captain Jean-Luc Picard and his crew are reunited with a former crewmate, friend, and enemy: Ro Laren. The onetime officer, who defected from Starfleet to joint he rebel Maquis, brings disturbing news. Deep behind enemy lines, the Dominion is attempting to build an artificial wormhole that will allow them bypass the mined Bajoran wormhole and bring fresh reinforcements into the Alpha Quadrant, altering the balance of power irrevocably. If Captain Picard cannot stop the project, the new wormhole will guarantee the ultimate victory of the Dominion!
---
Journal Entry
2
by
nwpassage
at
Prince George, British Columbia Canada on Saturday, October 22, 2011
Read this several months back, after the boyfriend & I bought all seven seasons of Deep Space Nine. This was a weird 4 book series format... books 1 and 3 are basically one novel in two parts, and books 2 and 4 are a novelization of the relevant Deep Space Nine episodes.

I don't remember a lot of details about these books, but I do remember feeling quite disappointed by them. I was looking forward to the original story about what the Enterprise was up to during the Dominion War, because of course it makes sense Starfleet's flagship would play a major role. But the author seemed to either not be really familiar with Star Trek or was just sloppy on the details: in this volume he describes Beverly Crusher as having blonde hair (she's a redhead), and Data "didn't even want to think about how cold it was" - he was alone on a mission, and why would an android care about the temperature? Grrr.

One passage I did like, describing an original character who plays Riker's love interest: "Her face had beauty, ruggedness, and character -- the face of a woman who worked too hard for too little in return."

Book is now Available.
---