The Eyes of the Dragon
Registered by
boagat
of
Briedel
,
Rheinland-Pfalz
Germany on 12/5/2006

This Book is Currently in the Wild!
5 journalers for this copy...
A kingdom is in turmoil as the old king dies and his successor must do battle for the throne. Pitted against an evil wizard and a would-be rival, Prince Peter makes a daring escape and rallies the forces of Good to fight for what is rightfully his. This is a masterpiece of classic dragons-and-magic fantasy that only Stephen King could have written!
---
Geht als Ray auf die Reise:

1. maju30
2. lowtexx
3. rafew
4. erinacea
5. cat-i
---
Released 14 yrs ago (12/20/2006 UTC) at
WILD RELEASE NOTES:
RELEASE NOTES:

Per Post auf dem Weg zu maju30
---
I tried several times to continue reading, but the book didn't catch my interest. I decided to stop reading and pass it to the next reader.
---
Released 14 yrs ago (2/20/2007 UTC) at
WILD RELEASE NOTES:
RELEASE NOTES:
Auf dem Weg zu
lowtexx
.
---
Ok, the book just arrived here in Dresden. It will be on top of my TBR stack.
---
The book arrived a few days ago.

I'll keep you updated.
---
The book arrived a few days ago.

I'll keep you updated.
---
Journal Entry
9
by
rafew
at
BookRing in -- Per Post geschickt/ Persönlich weitergegeben --, Bayern Germany on Monday, February 04, 2008
Released 13 yrs ago (2/4/2008 UTC) at BookRing in -- Per Post geschickt/ Persönlich weitergegeben --, Bayern Germany
WILD RELEASE NOTES:
RELEASE NOTES:


---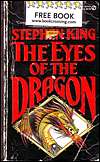 Well, that went quickly. It's here, I mean, not that I already read it - I'm not
that
quick. ;)
It looks rather, er... worn, like I'll have to be careful reading it, so I'll probably not carry it around and read it on the train or wherever I've got a minute to wait, but instead keep it safe and snug at home, to read when I feel like it. This might slow down my reading or speed it up, hard to tell without knowing the book, though I already like the cover's scaly pattern as well as the flaming dragon on the cover itself.
Thanks to
boagat
for the ring and to
rafew
for sending it along.
---
Okay, I have a feeling this JE is going to get long. If this bothers you feel free to skip reading. :p Consider yourself warned!

People keep giving me odd looks whenever I say that I read King for his writing style. I rather suspect that's a bit like saying you read the Playboy for the interviews (I wouldn't know, never having seen one up close, but that's how the saying goes, right?) but in this case it actually happens to be true. And whenever I think about this strange impression I keep thinking I must have made a mistake, and yet if I read another of King's books I'll find that - yet again - I like the writing. (Though quite probably not the story itself, as those tend to be rather disgusting, something that this book thankfully steers clear from.)

"The Eyes of the Dragon" is a prime example of this phenomenon. I mean I love the writing! I guess this fairy tale like story-telling just sort of jives with me. The characters are interesting and like-able, as well. (Well, for the most part. :p) My heart really went out to poor Thomas! I just love the poor little guy, he reminds me of myself. I mean, of course I'd like to be more like Peter (who wouldn't?) but I continue to fall short of my own idealistic aspirations, and given the choice, I might very well have acted exactly like Thomas.

What annoyed me more and more the longer the story went on was the remarkable lack of female characters. I mean a lot of fantasy stories get by with few important female characters if at all, but apart from Sasha (who died soon enough anyway, so it doesn't really count), and Dennis' mother (who had about two lines) there wasn't a single woman until Naomi in the very end, so even she seemed more like an after-thought. Most importantly, what on earth became of Peter's "lady love" - I don't think we ever even saw her. Strange...

The plot was rather simplistic without any twists that deserve the name. (Were there any at all I didn't see coming a mile away? I don't really remember.) In fact, I've got the impression that King in general is just not that into weaving complicated plots. Writing yes, plot, heavens, no.

Spoilers ahead! Highlight to make them visible.
I noticed two gaping plot holes, both of which would have been easy to avoid: For one, I find it highly unlikely that Thomas would sleep walk AND sleep talk AND confess everything during a single one of the nights Dennis hangs around. I'd expected him to blurt out everything in a drunken stupor, and even that would have been surprisingly convenient, but the way King solved this was (IMHO, of course) even less believable.
For another, in Valera's more than four hundred year-old letter that survived against all odds, all that time, he mentions Flagg by name, something that is completely impossible if Flagg last appeared 250 years ago under another name and never used the same name twice. Quote: "He had, in fact, come to Delain often. He came under a different name each time [...]. This time he was Flagg. The time before he had been known as Bill Hinch, and he had been the King's Lord High Executioner. Although that time was two hundred and fifty years past, [...]"

I'll buy that he was a magician then, too, because that sort of court position happens to be a huge source of power for all evil advisors, but the name is a plain mistake - and one not even necessary: Peter would have been smart enough (and had enough time on his hands) to put together the clues even had Valera mentioned the name of another magician along with his strikingly similar life story.

Still, I rather like the ending, especially it not having all ties neatly knotted, and of course the showdown with Thomas' (albeit predictable) return to the side of good. (Oops, did I give anything away? ;))

I'd like to keep this book for a while, possibly to reread it again, maybe not. cat-i tells me she's not interested in reading this book anymore, so I take this as an omen and won't ask for interested readers on the forum. :p
Don't worry, though, I'll probably pass it on within a month or two at one of our meet-ups.
---
Journal Entry
12
by
erinacea
at
Bücherwald Prenzlauer Berg (OBCZ) in Prenzlauer Berg, Berlin Germany on Thursday, November 13, 2008
Released 12 yrs ago (11/10/2008 UTC) at Bücherwald Prenzlauer Berg (OBCZ) in Prenzlauer Berg, Berlin Germany
WILD RELEASE NOTES: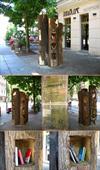 WILD RELEASE NOTES:
Well, I did take it along to my next Meet-up, it only happened to take place about seven months later than anticipated since I'd taken a break from Bookcrossing in the meantime. (Sorry about that!)
I'd previously asked several times in the forum but didn't find any prospective readers, so when at the Meet-up still no one was interested, I was more than happy when someone scooped it up with a number of other leftovers and placed it into one of the panels of the "Bücherwald" (some sort of Open air BCZ).
On Tuesday, I had to look after my sick sister-in-law and yesterday
I
was feeling queasy, so I only get around to journalling today. Thanks again for letting me share!
---
To the finder:
CONGRATULATIONS!
You've found a wandering book! Please leave a short (or not so short ;) ) journal entry, so I know that the book's well and safe in your hands. For example, you could write where you found it, how you like it, or what you are planning to do with it.
Thanks a lot!
erinacea
PS: While I enjoy writing these texts in English, there's no obligation for you to do the same. If you like, you could make an entry in German, or whatever your mothertongue may be.
(Einträge auf deutsch sind auch erlaubt. ;) )
Have fun reading!
---