The Diary of a Young Girl
2 journalers for this copy...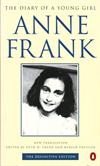 Bought in Amsterdam around 2000 when visiting the
Anne Frank Huis
.
I can't remember reading this book before (just finished reading prior to registering) but I must have done so because I recognized a couple of passages. I don't think I originally much "liked" it (however cynical that may sound) because, when writing, 14-year-old Anne Frank was deep in the throes of puberty and frankly (no pun intended) behaved like a brat. That was my
original
impression.
Now that I've reread it I've trouble understanding that view, but I suppose it's because I myself have matured inbetween and realize that I've been just as bad around that age when it came to slighting my immediate family.
That's where the charm of the book lies, in that Anne wrote what mattered to her at that moment and how she felt at a given time: At age 13-15 sometimes other things were more important than the war or being in hiding, things like unfeeling parents, longing for kinship and love and the struggle against one's own shortcomings. In short, it's exactly what other teenagers go through as well, but all against the back-drop of the struggle for survival. What makes this such an fascinating read, are Anne's natural descriptions, her sharp observations of her fellow occupants of the
Secret Annexe
and, of course, the sad knowledge that she didn't live to see the publication of her diary. It's gruelling that such talent can be extinguished by the atrocities committed by human beings.
The cover is different so I'll include the scanned image in this JE.
---
---
taken out of the english-book-box
---
i sent this book via bookmooch to ireland but couldnt find the time to read it myself!
---