Κάρολ
1 journaler for this copy...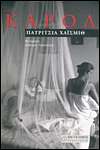 Μου το δωσε η Dellaporta για τα Χριστουγεννα!
Την ευχαριστω πολυ γιατι ειναι ενα βιβλιο που ηθελα πολυ καιρο :)
---

Therese first glimpses Carol in the New York department store where she is working as a sales assistant. Carol is choosing a present for her daughter; she looks preoccupied, exuding an aura of elegance as perfect as a secret. Standing ther at the counter, Therese is wholly unprepared for the first shock of love.

First published under a psuedonym in 1952, Carol is a love story told with compelling wit and eroticism, and consummate tenderness.
(The Big Gay Read)

Carol, first published in 1952 as The Price of Salt, under the pseudonym Claire Morgan, is Highsmith's only explicitly lesbian novel. It sold nearly one million copies in the United States in 1953 alone. Lesbian readers' response was one of gratitude--finally they were offered a novel that did not end in death, despair, or debasement.
Carol is an erotic love story that retains the Highsmith taste for a tightly fought psychodrama. The two central characters, Therese and Carol, are strapped together by a desire tabulated by the intense hold the ordinary, daily exchanges of romance can exert over the self. Ostensibly Carol is the adored, and Therese does the adoring, but Highsmith suggests depths in their relationship, often conveyed by an apparently casual remark, which belie this simple structure.
Carol has the flavor of a psychological thriller in the sense that it maintains narrative anxiety and suspense while exploring the emotional implications of desire and dependency. Its reissue by Penguin Books in 1991 is a testament to its subtly wrought portrait of a relationship.
Patricia Highsmith is not an author who offers predictable, comforting role models to lesbian or gay readers but one who provides narrative absorption through psychological subtlety. Her novels interrogate what constitutes personhood and what motivations drive the self: two pertinent and enduring questions for modern lesbian and gay identity.
(An encyclopedia of gay, lesbian, bisexual, transgender & queer culture)
---

Μου άρεσε γιατί αν και δεν είμαι ομοφυλόφιλη με έκανε να φανταστώ πώς θα ήταν αν ήμουν.. Δεν είναι καθόλου σοκαριστικό για τους σημερινούς αναγνώστες θεωρώ και η ηρωίδες είναι διαφορετικές και πιθανότατα να συμπαθήσεις τη μία από τις 2 περισσότερο..παρόλα αυτά η Χάισμιθ σε βάζει στη ψυχολογία τους χωρίς όμως να αποκαλύπτει και πάρα πολλά! Τουλάχιστον για την Κάρολ... Το τέλος δε, μου άρεσε περισσότερο από όλα!!!!
---