Merde Actually
2 journalers for this copy...

Living in France myself, I had to buy this when I saw the cover in a London bookshop in June (actually it's slightly different: The two snails are on a cup of tea...).
I found out that it's already the sequel to "A Year in the Merde", which I will try to read first if possible.

From the back cover:
A year after arriving in France, Englishman Paul West is still struggling with some fundamental questions:
What is the best way to scare a gendarme? Why are there no health warnings on French nudist beaches? And is it really polite to sleep with your boss's mistress?
Paul opens his English tea room, and mutates (temporarily) into a Parisian waiter; samples the pleasures of typically French hotel-rooms afternoons; and, on a return visit to the UK, sees the full horror of a British office party through Parisian eyes.
Meanwhile, he continues his search for the perfect French mademoiselle. But will Paul find "l'amour éternel", or will it all end in "merde"?

"Merde actually"
In his second comedy of errors, Paul West continues to sabotage the entente cordiale.
---

Now that I received the first book ("A Year in the Merde"), I'll let this book travel as a ring after having read it.

edit 24.05.10:
It was as funny as the first book, quite a nice, light read! Living in France myself, I couldn't help but laugh out loud sometimes - it's oh so true! (Even some bits seem to be slightly exaggerated).
By the way: My screenname has all capital letters for the reason described in the book (where he gets his menu back because he didn't get the French accents right: The bookcrossing site wouldn't recognize the "é" way back when I signed up, so I just spelled "Déesse" all with capital letters - comes in handy now to find yourself in the forums!)

The funniest bit for me was the description of the British office Christmas party though - the letter from the Health Board, advising that you shouldn't photocopy your ar.. and b...... when you're drunk as the glass top may break and you may end up in an A&E-Unit of a hospital...
"Charlie was not a light guy, but the photocopier had obviously been built to withstand tough love, and black-and-white pictures of his balls and hairy areshole were sliding out into the stacker. (...) Though to be fair, Charlie did redeem himself somewhat, because he used one of the sterilized wipes that the health and safety people had thoughtfully (and pessimistically) left by the photocopier to swab down the glass for the next sitter. If anyone did end up in A&E, the lacerations in their backside would at least be germ-free." (p. 429f.)

Edit 08.04.15:
I never managed to send the book on its way, so I'm releasing it at the Convention.
---

Journal Entry
3
by
DEESSE
at
Bookcrossing Convention 2015 in Oxford, Oxfordshire United Kingdom on Wednesday, April 08, 2015
Released 5 yrs ago (4/10/2015 UTC) at Bookcrossing Convention 2015 in Oxford, Oxfordshire United Kingdom
WILD RELEASE NOTES:
for the book buffet!
---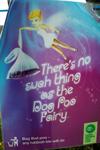 I've read one book of this series and it was hilarious. One does not have to live in France (mon Dieu!) to be able to laugh at it, a mere visit gets you to enough trouble☺.
---