Lullaby
Registered by

ghir

of
Honolulu
,
Hawaii
USA on 10/21/2006
4 journalers for this copy...

Extra copy for release.

To conto, 10/28/06.
---

It arrived today, safe and sound! Thanks a lot, ghir.

I just hope you had the best birthday and did the best out of your birthmonth; you sure did lots of people happy with all your drawings throughout the month!

It will take a while, as I've a lot of books on my TBR pile, but I'll journal this one again, as soon as I get to read it!
---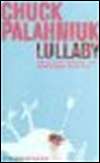 The rings/rays finally stopped coming and I've been able to start reading a few of the RABCKs that I have been lucky to receive.
I had never before read a book from Palahniuk and it was a surprise. I don't think I would have grabbed it if I new what it was all about, so I'm glad I didn't know for I really did like it. It definitely is thought provoking and I found the style amusing, with all the constant repetition of some lines as in the description of colours.
It starts with this journalist who sets out to write about the Infant Death Syndrome. Babies mysteriously die without cause in the middle of the night. Turns out they've all been read the same lullaby, a culling song that can be tracked back to Africa, where it was used the euthanize fatally wounded warriors and starving children in a famine: people who would've died painfully anyway. So this guy sets out to destroy all the copies of this book, and gather a pretty eccentric crew on his way.
I guess that basically and throughout the book, Palahniuk wants to point out how our society is slowly dying. He calls us noise-maniacs, and quiet-ophobics as we allow, maybe even welcome, the media to scream loudly in our ears and take over our brains so we won't think for our ourselves once, if we did think for ourselves, we'd realize what a horrible, gruesome world we've created (and takes in the plot the ideas of vegetarianism, environmental destruction wreaked by non-native species, etc.) and we'd rather just be deaf to all of that. The idea of power is also very prevalent in this book: who has it, who doesn't, who wants it... and what happens when people finally get their hands on it. In the end, it's kind of blurry as to who's right and who's wrong, and that's great as well.
With all this, one that could easily become a simple and 'stupid' horror story turns to be a great read with loads of food for the mind.
Thank you so much for it ghir, once more!
It will now lay for a while in kizmiaz' bookshelf, for I think he will love it and has to manage the time to get to read it.
---

Ok, I've got this book one week ago and just found a little break in the Rings/Rays so I'm starting it today. Thanks for the "heads up" conto
---

First let me start by thanking conto for the recommendation to read this book, it was quite worth for several reasons. First I'd never read anything by this author, and now I'll certainly try to read some of his other books, also this is certainly my kind of story.
The author writes in an unusual way with a series of repetitions that work very well for this story, the characters are very good (especially Carl, Helen and Oyster) and the plot is tight and twisted, all these aspects work in a way that makes this bizarre story very believable.
All the observations about colours, textures and noises are brilliant; they go a long way to suck you into the story. First you get interested in the dead babies reports and Carl's strange behaviour, then you get pulled by the haunted houses scheme, then the culling song comes along and before you notice it your trapped (in a good way) in this story and you just have to find out how can this come to a good end.
Loved all the reflections about the quiet-ophobics and the new take on Big Brother, and I agree with conto that there is really a lot for us to think about in this book, like are we leading or being led? Is information power or just a distraction from power? And other poignant considerations. I book I'll certainly recommend to other people.
Can't help but leave here a fragment that really portraits one of Carl's (and some of us) most serious doubts:
"What I'm talking about is free will. Do we have it, or does God dictate and script everything we do and say and want? Do we have free will, or do the mass media and our culture control us, our desires and actions, from the moment we're born?"
---


Uops!
I had forgotten to testify the return of this book. Sorry kizmiaz!
And now I hereby reserve it for the
Virtual Bookbox "De Par em Par"
sponsored by El Hurricane. ;-)
---

Journal Entry
7
by
conto
at
controlled release in Lisboa, -- Por correio / mão própria -- Portugal on Saturday, January 12, 2008
Released 12 yrs ago (1/14/2008 UTC) at controlled release in Lisboa, -- Por correio / mão própria -- Portugal
WILD RELEASE NOTES:
RELEASE NOTES:

Segue dentro de momentos para Silvia-pco! ;-)
---
---