Με λίγα λόγια
2 journalers for this copy...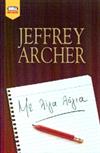 This is the greek edition for "To Cut a Long Story Short". The greek cover is shown on the left.
Μετά τους «Δώδεκα Τρόπους Παραπλάνησης», ο διεθνώς καταξιωμένος Τζέφρι Αρτσερ επιστρέφει με δεκατέσσερις νέες μικρές ιστορίες που αποδεικνύουν γι άλλη μια φορά την αφηγηματική δεξιοτεχνία του.
Ιστορίες γραμμένες με λίγα λόγια, αλλά με μια μεγάλη ποικιλία χαρακτήρων, θεμάτων και τόπων, που όλες καταλήγουν χαρακτηριστικά με μια αναπάντεχη ανατροπή.
Δυο άνθρωποι σε αντικριστές αποβάθρες ενός σιδηροδρομικού σταθμού ερωτεύονται κεραυνοβόλα. Ένας άντρας ακούει κατά λάθος στο τηλέφωνο μια συνομιλία που θ' αλλάξει ριζικά τη ζωή του. Δυο αδέρφια σε ρόλους τζίτζικα και μέρμηγκα. Μια γυναίκα εμφανίζεται στον εραστή της μόνο κάθε έξι χρόνια...
---
File mou s'eyxaristo gia to vivlio pou mou esteiles. Na eisai sigouros pos tha to diavaso syntoma kai tha sunexisei to taxidi tou!

Y.G: Grafei tipota mesa gia rakomela? lol!!!
---