Besa Me Mucho
Registered by
mfa
of
Lisboa - City
,
Lisboa (cidade)
Portugal on 8/29/2006

This Book is Currently in the Wild!
2 journalers for this copy...
at the tame of registering, i'm still reading my own copy.
why the rush?
to join the breastfeeding week challenge... (and that's why this je is in english, by the way).

ok. this is not, as a matter of fact, a book about breastfeeding. but there's no such thing as a proper breastfeeding book in portuguese, i'm afraid. having said that, this book goes probably deeper than a "how to" manual that would teach the need (and depths) of long term breastfeeding on demand and the like, because it focuses on the whole attitude of parenting - if you believe in understanding and respecting your baby and want to do what's best for both of you, breastfeeding will come naturally.
this is not a fundamentalist (meaning you would be a bad parent if you dont' practice co-sleeping or carry your baby in a sling...) book either - gonzález is an expert and a doctor, and he bases his (pro-sears, i would day) argument both on scientific developments and matters of principle. the main idea is to make parents confident towards their instinct to regard children as naturally good and not bad or prone to manipulation and "vice"...

and if you've been breastfeeding for 20 months in backward portugal (where even the most progressive of kind advisers believe spoiling is as bad as spanking!) you'll know why it makes sense to release it as part of the challenge.


finally, as i don't hang around with pregnant women anymore (carolina is 20 months old...) and i'm not really confortable with providing people with advise they haven't asked for, i'll leave it to fellow bookcrosser and good fried letra the job of releasing it afterwards (obrigado!).



ps: the forum is down to non-winged members. i'll leave my dialectic thoughts about capitalism and the complexities of running a free site aside. if it does not come back to normal soon and i decide not to buy wings this time, this might be officially late for the challenge. what a pity.
---
Released 16 yrs ago (8/29/2006 UTC) at
WILD RELEASE NOTES:
RELEASE NOTES:

part of the breastfeeding week challenge.
---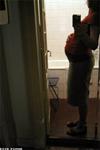 Obrigada, mfa. Vou ler e libertar muito em breve.
---

Bésame Mucho
pode ser o estímulo certo para convencer uma mãe (ou um pai!) insegura(/o) a não dar ouvidos a nenhuma das pessoas que, fazendo-se valer da sua experiência, idade ou simplesmente do que ouviram dizer, os criticarem por darem colo, mimo ou mama
a mais
aos seus filhos. González defende que esse
a mais
não existe e que os bebés e crianças pedem sempre e apenas na medida do que necessitam. O tom da sua escrita, no entanto e apesar de concordar com o essencial da mensagem que tenta passar, irritou-me solenemente: repete-se até à exaustão, abusa da ironia e das citações para parodiar os autores de que discorda e é, ainda por cima (pelo menos parece ser) bastante machista, dirigindo-se às suas
queridas leitoras
, colocando-as por princípio em casa, a
fritar croquetes
,
à espera do marido
, etc. (Onde estão os bons livros de puericultura escritos por mães? Curiosamente, o unico que li até hoje -
The Best Friend's Guide to Toddlers
- foi escrito por uma leiga).
Vou libertar o livro no dia 15, num consultório frequentado por muitas possíveis interessadas. Espero que continuemos a seguir-lhe o rasto. Obrigada, Mariana :)
[a foto foi tirada
daqui
. A mulher e o bebé pertencem à tribo Nimba, da Namíbia]
---
Released 16 yrs ago (9/15/2006 UTC) at
WILD RELEASE NOTES:
RELEASE NOTES:

Consultório médico no n.º 39 da Rua Latino Coelho.
---