Tall, Dark & Dead [Hardcover]
2 journalers for this copy...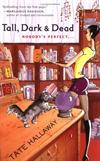 Received through
PaperBackSwap.com
.
This is the Rhapsody Romance Exclusive Hardcover edition of a book otherwise available only in paperback.
Book Description
The line between magic and sanity is very thin. That's part of why I, Garnet Lacey, quit cold turkey. Never touch the stuff. No exceptions.
But magic is so addictive... and my inner Goddess, Lilith, is hard to resist. Besides, restraint isn't easy when you manage Wisconsin's premier occult bookstore, and get customers like Sebastian Von Traum—piercing brown eyes, a sexy accent, and a killer body in black leather and denim. The only thing missing is an aura. Which means he's dead...
That means trouble. I guess I'm a sucker for it. The Vatican witch hunters are on to us. My long-lost vampire ex has crawled out of the woodwork looking for action. And Sebastian's frustrated ex is stirring in her grave.
What's a girl to do if she's hot for a dead man walking? Run like hell—and take full advantage of the nights....
---
It was great to finally come across a fiction book using Witchcraft as a main theme where the author really knows her stuff! I was getting fed up with all the "poseurs" out there who introduce the subject of Witchcraft into their books simply to sell more copies, while not knowing the first thing about it. Of course, the author did introduce some additional fantasy elements to keep the story interesting as well.

We have Garnet, a practicing Pagan and Witch, trying to escape her past and the Vatican Witch Hunters who killed her old coven. She works at a New Age shop, where she meets Sebastian, a fellow Witch—Alchemist actually—who's also a vampire. It becomes a race against time as they try to evade the the witch hunters on their tail, help Sebastian remake his "formula", and Garnet tries to keep her invoked Goddess Lilith in check.

Were this book not reserved for someone else, I'd have hung on to it to share with some of my other witch friends. As it is, it left me anxiously awaiting it's sequel.
---
Journal Entry
3
by
CheriePie
at
Valentine's Day Exchange in UPS Ground, Postal Release -- Controlled Releases on Friday, February 09, 2007
Released 13 yrs ago (2/9/2007 UTC) at Valentine's Day Exchange in UPS Ground, Postal Release -- Controlled Releases
WILD RELEASE NOTES:
RELEASE NOTES:
Shipped to my Valentine's Day Exchange partner along with a big box of other goodies! Shipped UPS Ground (2 days) on 09-Feb-2007 tracking #
1Z161WF30390019812
.
---
Got this from Cherie who was my V'day Cupid on the temporary bookrelay site for the valentines day exchange. Moving to the top of my tbr! Thanks Cherie!!!!
---