* O Código D'Avintes
3 journalers for this copy...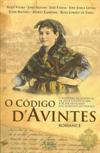 Os sete autores de "Os Novos Mistérios de Sintra" reincidem no estilo corrida de estafetas de onde resulta uma apaixonante trama, de mistérios e amores, surpresas e humor. O mistério da infância de Jesus Cristo acaba por ser revelado nas margens do rio Douro.

Tudo começa em torno da trama sinistra do Conclave dos Cavaleiros Teutónicos da Nova Ordem que quer dominar o mundo sem olhar a meios.

Por seu lado, Isaías Pires, professor de medicina expulso da Ordem por práticas pouco ortodoxas, pertencente a uma outra organização que se opõe aos intuitos pérfidos do Conclave, sofre um trauma e desata a falar aramaico, língua corrente no tempo de Cristo na Palestina e logo a seguir começam a morrer patos e pombos por todos os cantos.

De repente, todos os personagens, o anjo Gabriel e a sua Sara, Lilith, delirante diva, a Arminda do bar do hospital, o doutor Fraga, a padeira de Avintes, o ex-inspector Nuno Costa, o professor Aquilino, especialista em línguas mortas, e outros mais, bons e maus, desatam a procurar antiquíssimas relíquias sagradas que podem conferir um poder indescritível àqueles que as possuírem.

O cúmulo é que a chave do código para chegar a essas relíquias está escondido justamente numa bela terra à beira do Douro e, por isso mesmo, ficará para sempre conhecido por O Código d'Avintes.
Atenção: este livro obriga a boas gargalhadas, se bem que não prime pelo mistério. Além disso, dá uma vontade imensa de comer broa...
---
Vai passear um bocadinho para a estante da Virgulina.
---
Este livro pareceu-me divertido, por isso pedi-o emprestado. Obrigado Elsita! :o)
---

Prontes, acabei de o ler agora mesmo! ;o)
Era exactamente o que estava à espera, um livro imensamente divertido e que, como diz a Elsita, embora não prime pelo mistério, faz-nos dar umas boas gargalhadas. Os autores foram buscar alusões ao panorama actual, até com os Morangos com Açúcar gozam, aliás não se podia esperar outra coisa de sete autores tão talentosos. Não fiquei com grande vontade de comer broa, não fosse ela cair-me na cabeça, e até porque prefiro as broas alentejanas amarelinhas. E prontes, já descobri o segredo deste código, mas não digo a ninguém! :o)
---
E já está de volta a casa, pronto para quem o pedir emprestado!
---
Reservado para empréstimo à PontoVirgula.
---
Journal Entry
7
by
Elsita
at
mailed to a fellow bookcrosser in N/A, A Bookring -- Controlled Releases on Tuesday, June 17, 2008
Released 11 yrs ago (6/17/2008 UTC) at mailed to a fellow bookcrosser in N/A, A Bookring -- Controlled Releases
WILD RELEASE NOTES:
RELEASE NOTES:

Boa viagem, livrinho!
---
OBRIGADA Elsita.
Já chegou e que ansiosa estou por começar... Obriada por este oportunidade. Se algum na minha estante te despertar interesse é só pedir que eu envio. Beijos

---
E como diria Lilith PRONTES já li o livro :)
Muito divertido, de fácil leitura, deu para dar umas boas gargalhadas!
Obrigada Elsita!!!!
---
LEsita desculpa a demora, o livro seguiu a caminho de casa só hoje.
Origada pelo empréstimo e peço desculpa pela demora...
---
De volta à minha bookshelf :)

Obrigada pelo envio, PontoVirgula!
---