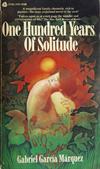 One Hundred Years of Solitude
3 journalers for this copy...
This is one of the few Oprah's Book Club books that I haven't read, so picked it up at a library used book sale.
---
The story follows 100 years in the life of Macondo, a village founded by José Arcadio Buendía and occupied by descendants all sporting variations on their progenitor's name: his sons, José Arcadio and Aureliano, and grandsons, Aureliano José, Aureliano Segundo, and José Arcadio Segundo. Then there is the fantasy, social history, and politics.

I enjoyed the first half of the book, but the further I read the more confused I became in keeping track of all the Arcadios and Aurelianos. Even with the family tree at the front of the book, it was a chore to figure out who was related to who.

An American Library Association (ALA) Notable Book and on the list of 1001 books to read before you die.

---
Journal Entry
3
by
pinklady60
at
Controlled Release in Controlled Release, A Bookcrossing member -- Controlled Releases on Monday, October 08, 2007
Released 13 yrs ago (10/8/2007 UTC) at Controlled Release in Controlled Release, A Bookcrossing member -- Controlled Releases
WILD RELEASE NOTES:
RELEASE NOTES:

I saw this on JennanneJ's holiday wishlist, so I'm sending it via media mail. Hope she enjoys it!
---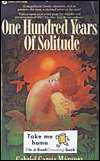 How generous bookcrossers are!
Thank you, pinklady60, for this lovely book. It's been on my "to read" list for a while and I've never gotten around to it. Now that I have a copy, I'll have to read it.
---
Seeing as how this book is on so many top book lists and comes recommended so highly, I really tried to read this book. I've been pecking away at it ever since it came into my hands, sometimes reading a good chunk and sometimes only a page or 2. Unfortunatly, I guess I don't "get" it, because I'm not really enjoying the novel. I'm not even 200 pages in yet. As much as I hate to, I think I'm going to have to give up on it.
---
Ok. I've been pecking away at this book bit by bit all year. Somehow, about a month ago, something just "clicked" and I started to enjoy it a bit more. I also took it with me to Ecuador, knowing I'd be forced to read it for lack of other reading materical. Actually, reading it in South America helped me enjoy it more. I won't say it was my favorite book, but I was enjoying it by the end. I was often confused with all of the characters having the same names. I feel SUCCESS! I fininshed!!!
---
CONTROLLED RELEASE NOTES:

Off to hostile17!
---

Received this "book for postage" in the mail today.
TYVM.
---

Journal Entry
9
by
book_drunkard
at
Osgood, Indiana USA on Wednesday, February 12, 2020
Finally got around to reading this one and it was a bit of a slog to get through it. I can't say that I enjoyed it, it was a bit too strange for my taste.
Glad to be done with it.
---