Kollektivt självmord
Registered by
Apechild
of
York
,
North Yorkshire
United Kingdom on 7/1/2006
This book is in a Controlled Release!
4 journalers for this copy...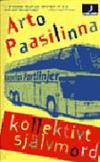 Jag köpte den här i Linköping för några år sedan. Började läsa den men kom aldrig riktigt igång med den. Den lär vara komedi, och jag fattar det, men ändå, hela grejen med självmordet kom jag inte igång med. Jag vet inte om man måste vara skandinavisk för att verkligen kunna läsa och njuta av boken.
Jag borde egentligen försöka igen, nu att det är några år senare, men jag har ett skrämmande hög böcker att läsa, och jag är väldig osäker om jag skulle kunna orka läsa hela boken. Det känns lika väl att skicka vidare boken nu. Kanske kan jag testa igen sedan, tom med samma kopie kanske om några år???? Vem vet!
---
Boken åker till Alvhyttan i Sverige. Jag försöker bygga en bokring här, men vi får se hur det går. Två personer, inklusiv mig, räknas inte som en bokring!

1. Jag - England
2. Alvhyttan - Sverige
3. Notnot - Norge
4. Brezova - Belgien
5. Sretna - Sverige
6. Annchen - Sverige
---

Boken kom med posten idag. Tack OpheliaPhillips!
Det ska bli spännande att se vad jag tycker om boken, jag håller med om att självmord och humor inte passar ihop.
---

Nu har jag läst boken och visst var den rolig och burlesk, men bakom det burleska finns en hel del allvar. Här får vi följa människor som av olika anledningar inte vill leva längre och vi får vara med om hur deras liv påverkas under en gemensam resa med andra presumtiva självmördare. Trots det allvarsamma så är allt berättat på ett enkel, roligt och lättläst sätt, det blir inte alltför jobbigt gripande. Jag tycker att den här boken inger optimism och ger idéer om terapi åt den som är trött på sitt liv. :)

Sen kan man ju undra om man kan skoja om allt och jag tror nog att man kan det. Men många orkar inte med humor i alla situationer, medan man i andra situationer verkligen behöver använda sig av humor för att orka med att hantera livet och döden.
Självmord är ju för många ett tabubelagt ämne, jag tycker att den här boken bryter mot det tabubelagda och kanske kan den därför upplevas stötande för vissa.

Jag tyckte att boken var bra och uppfriskande rakt på sak.

---

Skickar boken till notnot idag.
---

Rene julekvelden: to bøker på en gang ramlet ned i postkassen! Dette vil bli den tredje Arto Paasilinna boken jeg leser. Jeg har fått virkelig sansen for denne forfatteren, og jeg kan nesten ikke vente med å starte på boken.
---

Nå har jeg lest den ferdig.
En bok som omhandler et alvorlig tema, men forfatteren klarer å fortelle historien uten at det blir støtende. Han forteller med lun humor, uten at jeg gapskrattet. Vi følger mennesker som er alvorlig deprimert av ulike årsaker, og som kun ser én vei ut av miséret. Boken klarer å formidle at uansett hvor mørkt det ser ut der man er nå, så er det alltid et lyspunkt framme i tilværelsen; noe å glede seg over, og noe som gir livsmot.
Jeg syns at boken alt i alt formidler en oppløftende stemning.
---

Sender boken til brezova i dag.
---
Journal Entry
9
by

brezova
from
Bruxelles / Brussel
,
Bruxelles / Brussel
Belgium on Thursday, October 12, 2006
Modtog bogen for et par dage siden, men kunne i første omgang ikke finde bcid :-)

Vil begynde at læse den idag og så skal den tilbage til Sverige.
---
Journal Entry
10
by

brezova
at
BookRing in -- controlled release --, Bruxelles / Brussel Belgium on Wednesday, April 25, 2007
Released 11 yrs ago (4/25/2007 UTC) at BookRing in -- controlled release --, Bruxelles / Brussel Belgium
WILD RELEASE NOTES:
RELEASE NOTES:

Retur til OpheliaPhillips da de to sidste deltagere på bogringen ikke længere svarer.
---
Jag kom hem från Japan igår kväll och boken väntade för mig - tack Brezova!. Jag ska testa läsa den igen någon gång. Bokringen tog slut tidigare eftersom Brezova inte kunde få kontakt med de sista två deltagarna.
---
Journal Entry
12
by
Apechild
at
Cheltenham, Gloucestershire United Kingdom on Friday, August 17, 2012
Released 6 yrs ago (8/17/2012 UTC) at Cheltenham, Gloucestershire United Kingdom
CONTROLLED RELEASE NOTES:
Jag har haft den har boken i manga ar nu, och jag har inte kant nagon lust att lasa den an. Och jag har sa lojliga manga bocker hemma, sa jag ska slappa boken ut i varlden. En bokmoochare i Cheltenham, England, vill ha boken, sa jag ska skicka vidare den.
---