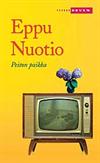 Peiton paikka
3 journalers for this copy...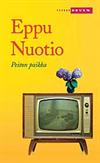 Takakannesta:
Kun minusta tuntuu että vauva imee kaiken, Marjatta sanoo Aimolle.
Aivan kuin lapsi ymmärtäisi. Heti kun se pystyy, se pysyy mahdollisimman paljon poissa äidin jaloista.
Koko pikkukaupunki tuntuu säälivän insinööri Lehmusta: niin komea mies ja niin omituinen rouva. Mutta Annukka ei näytä tytöltä, jolla on vaikeaa. Hänellä on selviytymiskeinonsa. -Minun isä päättää Varkaudessa melkein kaikki asiat. Paitsi ne, jotka päättää tehtaan Ahltrömmi, Annukka sanoo ylpeänä naapurin Sinikalle.

Radiossa soivat Lauantain toivotut, lapset leikkivät retutossuissaan kauppaa ja tehdasta, rouvat järjestävät tupperwarekutsujaan, televisiossa pyörii Peyton Place.
Eppu Nuotio
kuvaa lapsen elämää ja muutaman vuosikymmenen takaista Suomea niin kuin vain harva osaa.
Ajattelin ensin lukea kirjan ja vapauttaa sen jälkeen.
---

Journal Entry
2
by
bookwormess

at
Helsinki, Uusimaa / Nyland Finland on Wednesday, May 01, 2013
Rakuna päätti luopua muutamasta kirjastaan, nappasin pinostä muutaman itselleni. Minua kiehtoo lähinnä tuo ajankuva. Kiitos!
---

Journal Entry
3
by
bookwormess

at
Kotka, Kymenlaakso / Kymmenedalen Finland on Tuesday, May 28, 2019
Päätin, että nyt siivoan tämänkin hyllyssäni kauan seisoneen kirja – äkkiäkös tuon lukaisee. No ei lukaise. Kirja on ajankuvaltaan mielenkiintoinen, mutta tekstinä se oli melko tuskaista tajunnanvirtaa. Keskustelut ovat samaa virtaa muun tekstin kanssa, tuntui sen verran raskaalta lukea, että aloin hyppimään riveillä kunnes päätin luovuttaa.

Kirja on 7/27 itselleni asettamassa "TBR-vuoren louhinta: vuosina 2008-2016 saadut" -haasteessa.
---

Journal Entry
4
by
bookwormess

at
Kotka, Kymenlaakso / Kymmenedalen Finland on Friday, August 16, 2019
Released 1 mo ago (8/18/2019 UTC) at Kotka, Kymenlaakso / Kymmenedalen Finland
CONTROLLED RELEASE NOTES:
Mansikkainen nappaus kuriirikyydissä. Lukuiloa!

******************
Onnea, olet löytänyt vapauttamani kirjan! Se on nyt sinun - voit pitää sen, antaa tuttavallesi tai vapauttaa edelleen. Kiitos kun ilmoitit löytäneesi kirjan! Mikäli haluat, olet tervetullut liittymään Bookcrossing.comiin. :)

Congratulations, you've found a book I've released in the wild. It's yours now - you can keep it, give to someone you know or release it back in the wild. Thank you for letting me know you've found it! If you want, you're welcome to join Bookcrossing.com. :)
---

Kiitos mansikkaisesta lähetyksestä, Bookwormess!
---