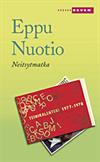 Neitsytmatka
3 journalers for this copy...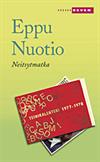 Takakannesta:
Mä lähden täältä heti kun pääsen, Annukka ajattelee. Hän on kohta viidentoista ja täynnä vapaudennälkää, ja hän vihaa kaupungin jokaista kulmaa. Eniten kuitenkin tehtaan konttorirakennusta. Sinne isä on piilottanut naisen nimelta Laina Pennanen.
Annukka pakenee kodin alakuloa ja äidin kuristavaa hellyyttä, kulkee uhallakin kommunistiperheen tyttären kanssa, kittaa omppuviiniä, yrittää epätoivoisesti päästä neitsyydestään, kahlitsee itsensä Koijärvellä puskutraktoriin. Ja saa vastaansa isän, joka tehtaan apulaisjohtajana on pienellä paikkakunnalla Jumalasta seuraava.
Sen paremmin isä kuin tytärkään eivät ehdi kiireitään huomata, kuinka Varkauden komeimman tiilitalon viileyteen hylätty äiti vajoaa yhä syvemmälle omaan maailmaansa.
Neitsytmatka
kuvaa Annukka Lehmuksen perheen rosoista elämää 1970-luvun Suomessa, aikana, jolloin maailma tuntee pikkukaupungin ikkunoista sisään.
"Viihdyttävä, koskettava ja taitavasti kirjoitettu"
, kirjoitti Parnasso Eppu Nuotion edellisestä romaanista
Peiton paikka.
Aion lukea kirjan ja sen jälkeen tarkoitus on vapauttaa.
---

Journal Entry
2
by
bookwormess

at
Helsinki, Uusimaa / Nyland Finland on Wednesday, May 01, 2013
Rakuna päätti luopua muutamasta kirjastaan, nappasin pinostä muutaman itselleni. Minua kiehtoo lähinnä tuo ajankuva. Kiitos!
---

Journal Entry
3
by
bookwormess

at
Kotka, Kymenlaakso / Kymmenedalen Finland on Tuesday, May 28, 2019
Yritin lukea kirjasarjan edellistä osaa, mutta päätin jättää leikin kesken. Joten tämäkin pääsee jatkamaan matkaansa.

Kirja on 8/27 itselleni asettamassa "TBR-vuoren louhinta: vuosina 2008-2016 saadut" -haasteessa.
---

Journal Entry
4
by
bookwormess

at
Kotka, Kymenlaakso / Kymmenedalen Finland on Friday, August 16, 2019
Released 1 mo ago (8/18/2019 UTC) at Kotka, Kymenlaakso / Kymmenedalen Finland
CONTROLLED RELEASE NOTES:
Yllätys! Kaveri tahtoo samaan kotiin.

***********************
Onnea, olet löytänyt vapauttamani kirjan! Se on nyt sinun - voit pitää sen, antaa tuttavallesi tai vapauttaa edelleen. Kiitos kun ilmoitit löytäneesi kirjan! Mikäli haluat, olet tervetullut liittymään Bookcrossing.comiin. :)

Congratulations, you've found a book I've released in the wild. It's yours now - you can keep it, give to someone you know or release it back in the wild. Thank you for letting me know you've found it! If you want, you're welcome to join Bookcrossing.com. :)
---

Kiitos kaverista kans, Bookwormess! Tottakai samaan kotiin!
---