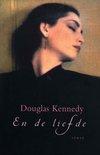 En de liefde
2 journalers for this copy...

New York, eind 1945. Eric Smythe geeft een daverend feest voor zijn talrijke vrienden. Tot de gasten behoort ook zijn zus Sara - een onafhankelijke jonge vrouw die aan het begin van een veelbelovende carrière staat. Dan komt, onuitgenodigd, Jack Malone binnen. Hij is oorlogscorrespondent en pas terug uit het verslagen en verwoeste Duitsland. Zijn kijk op de wereld is totaal anders dan die van de overige feestgangers. De ontmoeting tussen Sara en Jack zal beider levens ingrijpend veranderen.

wandelaartje
4vlinders
..
..
..
---
En de liefde is gearriveerd in Hoofddorp. Eerst even mijn boek uitlezen dan is deze aan de beurt.
---
Dit was 549 bladzijden genieten. Wat een prachtig boek, goed geschreven en makkelijk leesbaar. Echt een aanrader, ik nomineer dit boek voor mijn persoonlijke Top 3 van 2007.
Ik ga 4vlinders PM-en voor haar adres zodat ik het snel weer door kan sturen.
edit 19-07-2007: 4vlinders heeft laten weten dat zij het boek inmiddels zelf heeft.
Ik heb Binebal ge-PM-ed om te vragen of het naar huis moet of nog verder gaat.
Einde logeerpartijtje, het boek is vandaag (26-07-2007)op weg naar huis gegaan.
Dank je wel Binebal dat ik dit boek van je mocht lenen.
---

En het boek is al een tijdje thuis!!
---