The Testament
4 journalers for this copy...
Amazon.com
Troy Phelan, a 78-year-old eccentric and the 10th-richest man in America, is about to read his last will and testament, divvying up an estate worth $11 billion. Phelan's three ex-wives, their grasping spawn, a legion of lawyers, several psychiatrists, and a plethora of sound technicians wait breathlessly, all eyes glued to digital monitors as they watch the old man read his verdict. But Phelan shocks everyone with a bizarre, last-gasp attempt to redistribute the spoils, setting in motion a legal morality tale of a contested will, sin, and redemption.
Our hero, Nate O'Riley--a washed-up, alcoholic litigator with two ruined marriages in his wake and the IRS on his tail--is dispatched to the Brazilian wetlands in search of a mysterious heir named in the will. After a harrowing trip upriver to a remote settlement in the Pantanal, he encounters Rachel Lane, a pure-hearted missionary living with an indigenous tribe and carrying out "God's work." Rachel's grave dedication and kindness impress the jaded lawyer, so much that a nasty bout of dengue fever leads him to a vision that could change his life.

Back in the States, the legal proceedings drag on and Grisham has a high time with Phelan's money-hungry descendents, a regrettable bunch who squandered millions, married strippers, got druggy, and befriended the Mob. The youngest son, Ramble, is a multi-pierced, tattoo-covered malcontent with big dreams for his rock band, the Demon Monkeys. Will Nate get straight with Rachel's aid? Do the greedy heirs get theirs? What's the real legacy of a lifetime's work? The Testament is classic Grisham: a down-and-out lawyer, a lot of money, an action-packed pursuit, and the highest issues at stake. It's not just about great characters; it's about the question of what character is. --Rebekah Warren --

---
---

Got it, thanks a lot redhot-brat.
---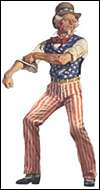 Well I finally had time to get around to this one and it was quite worth it.
Another nice legal thriller by Grisham, although this one doesn't dwell as much in court procedures as the previous books I've read from him.
A testament starts a whole lot of trouble for the supposed heirs and an unpleasant adventure for an alcoholic lawyer that has to plough thru the Pantanal, probably one of the most impressive wild life preserves in the world, in search of a newly named heir to 11 bilion dollars.
It's an entertaining page turner but not as good as some of the books I've read by Grisham, namely A Time To Kill.
The character of Troy Phelan makes a small cameo appearance in the book but it's by far one of the best in the book, his sense of humour is fantastic.
---

BRay rules:
- I think a month is time enough for you to read this book if you think you won't make it no problem, just let me know so I can post a little warning to the following BC'er, it's all a matter of courtesy;
- Please do not forget to make a JE when you get it and when you send it on to the next, that way we'll all know where the book is;
- There is no limit to people on this BRay, the more the merrier;
- I'll organize this by country so it won't be too pricey for anyone;
- Because life's hard for a lot of us, please feel free to ship by surface mail;
- The last person on the BRay is free to do with the book as he pleases, you might even want to help it continuing its journey.
Sent to ElHurricane today (02.08.2007)

Who's in:

- ElHurricane (Portugal)
- fungaga (Portugal)<--It's here!
- silvia-pco (Portugal)

---

Journal Entry
6
by
ElHurricane
on Wednesday, August 08, 2007
And here it is!
Thanks kizmiaz
---

Well, I finally had the time to read it and I loved it.
It was my first Grisham and I'm looking forward to get into more of him.
The book is thrilling and I couldn't stop reading it. Everytime I finished a page another had to be turned.
The heirs are quite a bunch: they waste out millions of dollars as they breathe and didn't deserve all they got.
The final destiny of the Phelan money was thr right one...

Thanks again kizmiaz for the chance to read this book.
It goes to fungaga asap.
---

And it goes tomorrow to fungaga
---
It arrived. Thank's Hurricane!
---
This book took me a while reading, because right now I don't have much time, but it was quite a pleasure. I specially enjoyed the fact that the final was not easy to spot almost untill yhe end of the story. It was my first book from this author and I won't miss an opportunity to read other books he's writen. Having part of the plot with the indians at the Pantanal was a wonderful extra.

Thank you kizmiaz for the opportunity.
---