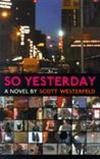 So Yesterday
Registered by
woosang
of
Campbelltown
,
New South Wales
Australia on 5/19/2006
This book is in a Controlled Release!
5 journalers for this copy...

We are all around you.
You don't think about us much, because we are invisible. Well, not exactly invisible. A lot of us have hair dyed in four colours, or wear five-inch platform sneakers, or carry enough metal in our skin that it's a hassle getting on an airplane. Quite visible, actually, come to think of it.

But we don't wear signs saying what we are. After all, if you knew what we were up to, we couldn't work our magic. We have to observe carefully, and push and prompt you in ways you don't notice. Like good teachers, we let you think you've discovered the truth on your own.

And you need us. Someone has to guide you, to mould you, to make sure that today turns into yesterday on schedule. Because frankly, without us to monitor the situation, who knows what would get crammed down your throats?

It's not like you can just stat making your own decisions, after all.

---

A story about cool and cool hunters. When Hunter's boss goes missing, he and his new girlfriend go looking for her.
Not a bad story, but there was a lot of non product placement, which was a little distracting (Thinking of the product) Good book for teens.
---

I got hooked on Scott Westerfeld when I started reading his
Uglies
trilogy.
I was so happy to see this book up on
BookMooch
...
I'm hoping that this it'll be another good one!
---

I'm going to let my officemate borrow this book while it's in TBR limbo.
I'm the one who got her addicted to Westerfeld... :D
---
I love Scott Westerfeld so I was thrilled when my bookcrosser co-worker, morsecode lent "So Yesterday" to me.

I think the book has a great plot concept and a great main character. Although not as riviting as his "Uglies," "Pretties," "Specials" series or (my favorite) "Peeps" -- this book still has the unmistakable mark of Scott Westerfeld. And for that alone it is a great read.
---

---

OK, I read this book last night and I was a little bit disappointed in it, though I think that may just be because my expectations were too high.
I liked Jen as a character and I found that Hunter was sympathetic (especially in his insecurities) - but I think that So Yesterday lacks the certain something that made the Uglies trilogy really compelling for me. Like woosang, I found the non-product-placement product placement a bit distracting.

In any case, I'm marking this book AVL for now, but it'll probably make its way into the Teen VBB (virtual book box) at some point.

Update, 9 August: This book is going into the Teen VBB.
---

I'm mailing this book off to KathyB, who selected it from the Teen VBB, today.
---

Received in today's mail from Morsecode... I'm so excited. I love this author!
---

On it's way to MsJoanna who requested it from BookObsessed
---

This has arrived. Thanks for sharing -- I enjoyed the Uglies series, so wanted to read more by this author.
---

Perfectly entertaining, slightly dated young adult novel about a kid/young man who makes money by identifying fashion trends and participating in focus groups. A somewhat convoluted plot weighs down the effort to talk about culture and coolness, leaving the book swinging a bit between efforts to be fast paced almost spy-novel-light and trying to say something deeper about culture. Overall, not as fun or as successful as Westerfeld's more well-known Uglies series. If you haven't read that, start there instead.
---

Mailed via paperbackswap.com
---