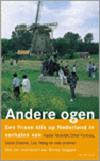 Andere ogen - Een frisse blik op Nederland
2 journalers for this copy...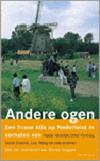 In 'Andere ogen' zijn verhalen verzameld over Nederland en de Nederlanders die geschreven werden door ruim twintig auteurs van buitenlandse afkomst uit verleden en vooral heden. Hans Sahar schrijft over het Oranjegevoel. 'Holland is het land met een volkslied waarvan ik alleen de house-versie leuk vind.' Van Ethel Portnoy zijn twee Broodje-Aapverhalen opgenomen. De uit Turkije afkomstige Sevtap Baycili schrijft over de eveneens uit Turkije afkomstige Sinterklaas, die in bepaalde opzichten een 'alien' is. Van Denis Diderot is een beschrijving van een reis in 1773-1774 door enkele steden van Holland opgenomen en Astrid Roemer schrijft over haar achtertuin. 'Andere ogen' bevat verder nog werk van onder anderen Lulu Wang, Sera Anstadt, Chitra Gajadin, Nasim Khaksar en Marguerite Yourcenar. Alle verhalen verschenen eerder in boekvorm. Moses Isegawa schreef speciaal voor deze gevarieerde bundel een voorwoord (6 p.). Vrij kleine druk.
(Biblion recensie, Redactie)
---
Released 14 yrs ago (7/5/2006 UTC) at
WILD RELEASE NOTES:
RELEASE NOTES:

Gaat in Yinny's * Vakantiereisboekendoos *
Goede reis, boekje!
---
My parents found this in their house in France, left by a guest. It's gone from France to Amsterdam and will now travel to Belgium.
---