The Devil Wears Prada
Registered by
bean-frog
of
Sheffield
,
South Yorkshire
United Kingdom on 5/3/2006

This Book is Currently in the Wild!
8 journalers for this copy...
When Andrea first sets foot in the plush Manhattan offices of Runway she knows nothing. She's never even heard of the world's most fashionable magazine, or it's feared and fawned-over editor, Miranda priestly. Soon, she knows way too much.

She knows that it's a sacking offence to wear less than a three-inch heel to work - but there's always a fresh pair of Manolos in the accessories cupboard She knows that eight stone is fat. That you can charge anything to the runway account, but you can never leave your desk, or let Miranda's coffee get cold.

Most of all, Andrea knows that Miranda is a monster boss who makes Cruella de Vil look like a fluffy bunny. But this is her big break, and it's all going to be worth it in the end. Isn't it?

I'm sending this book out to travel the world in a bookring! If you'd like to join, pm me and I'll add you to the list. So far it is:

lapin-blanc, France
BOKWORMY, Portugal
letra, Portugal
girosauro, Italy
beautyredefined, USA
rubyjules, USA <--- Here
tania-in-nc, USA
hsah, India
bean_frog, UK

The rules of this bookring are pretty relaxed, as long as you journal the book at least once, and pass it on when you're done, that's fine!

Happy reading everybody!
---
What a pleasant surprise! Just came back from a 4 days-long week-end and this book was waiting for me. Have been looking forward to reading this one!Thank you very much Bean-Frog.
---
Definitely a good « chicklit ». Easy entertaining read but I didn't find the main character very likeable.
I mean, how stupid is she to believe she would get THE amazing publishing job she was after by working as a slave for a tyrannical and totally abusive boss for a year!



Sent to BOKWORMY on 3rd of July.

---

Just received in the post thanks to Lapin-Blanc.

Thanks to bean-frog for sharing it with me *-)

Taking it with me on holidays !!!
---

Released 15 yrs ago (8/1/2006 UTC) at
WILD RELEASE NOTES:
RELEASE NOTES:

On the way to letra *-)


---

Journal Entry
6
by

AnonymousFinder

on Friday, August 4, 2006
Thank you BOKWORMY. I'll read and send along ASAP :)

CAUGHT IN LISBOA LISBOA PORTUGAL
---
Ooops! Sorry everybody, I didn't realise i wasn't logged in. I'm the "anonymous finder" from the previous journal entry.
---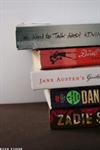 This is one of the few
chick lit
books I have ever read and probably the best one so far. It's a very fast and enjoyable read - perfect for summer.
Thanks for sharing, Bean-frog. I'll mail it to Girosauro as soon as I have an address.
PS (August 16th): Girosauro doesn't answer my PMs, so I'm contacting the next person on the BookRing list.
PS (August 18th): On the way to Girosauro. Enjoy!
---
arrived today!!
hopin' to read it as soon as possible!!
---
really funny!! I loved the description of the "Runaway"-girls...now I'm waiting for the movie.
on the way to beatyredefined!!

PS for me this was the last of the 3 books of beanfrog, so I want to thank her for this lovely idea...sharing this books was such a good thing!!! made my summer really better!
---

I just got this book on Thursday, and I'm already almost done. It's a good read when you don't want to have to think to hard about it, but I can't help drawing comparisons between it and Sex and the City. Thanks for sharing it bean-frog, and I'll get it out to the next person on the list shortly!
---
Sorry I haven't been able to journal this sooner, my internet time has been drastically cut! I read this over the weekend, and it wasn't nearly as good as I had heard or hoped. I will be sending it on as soon as I have the next address.

Thank you for sharing!
---
Journal Entry
13
by
rubyjules
at
Bookring in Bookring, A Bookring -- Controlled Releases on Thursday, November 9, 2006
Released 15 yrs ago (11/9/2006 UTC) at Bookring in Bookring, A Bookring -- Controlled Releases
WILD RELEASE NOTES:
RELEASE NOTES:

I'm sending this back to Bean-Frog at her request. I didn't get any replies from tania-in-nc, either. Thank you so much for sharing this book!
---