Dead Until Dark: A Southern Vampire Novel
5 journalers for this copy...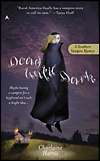 Bought today during my lunch hour, at Value Village for $3.99. TBR
From the front cover:
"Rural America finally has a vampire story to call its own." -- Tanya Huff
DEAD UNTIL DARK: A Southern Vampire Novel
Maybe having a vampire for a boyfriend isn't such a bright idea....
Charlaine Harris
From the back cover:
"A fun, fast, funny, and wonderfully intriguing blend of vampire and mystery that's hard to put down, and should not be missed." -- Susan Sizemore
DEAD UNTIL DARK
Sookie Stackhouse is a small-time cocktail waitress in small-town Louisiana. She's quiet, keeps to herself, and doesn't get out much. Not because she's not pretty. She is. It's just that, well, Sookie has this sort of "disability". She can read minds. And that doesn't make her too dateable. And then along comes Bill. He's tall, dark, handsome - and Sookie can't hear a word he's thinking. He's exactly the type of guy she's been waiting for all her life....
But Bill has a disability of his own: He's a vampire with a bad reputation. He hangs with a seriously creepy crowd, all suspected of - big surprise - murder. And when one of Sookie's coworkers is killed, she fears she's next....
"Harris writes neatly and with assurance." --
The New York Times Book Review
"An author of rare talents." --
Publishers Weekly
---
I've decided to send this along as a wishlist RABCK to chronic, with another book I owe her. Reserved.
---
---

Thankyou so much. This was a complete surprise. I have been wanting to try this series.
---

Chronic loaned this to me today during a visit at her house. I started reading it and am enjoying it so far. These "paranormal romances" are like potato chips for my mind. Will journal when done and passing it back to Chronic. Thanks for sharing.
---

A fun light read in the paranormal genre. There isn't much substance to this - mostly a romance between a southern woman (Sookie) with a "disability" (telepathy) and a vampire (Bill) who is trying to live a mainstream life. Coincidentally as he comes to town, murders of fang-bangers begin. The vampire is accused as well as Sookie's brother Jason, since he had relationships with all the women killed. When Sookie's grandmother is murdered, Sookie takes it personally and descends into the Vampire world to find the killer. In between murderer hunting and working as a waitress and reading minds, Sookie falls in love with Bill. Their relationshipo is far from normal in every way and there are some laugh out loud moments as well as some frightening ones in the Vampire bar, Fangtasia.

All in all, worth the read for some light distraction.


---

Antheras convinced me to read this book when she saw that it was brought to meetup today. I''m not a big paranormal romance fan... the only other series I''ve read being the Undead series (though I enjoy it). Antheras claims that this series is better, so I''ll read it and see!
---

Journal Entry
8
by
HoserLauren
at
Toronto, Ontario Canada on Tuesday, March 08, 2011
Sookie Stackhouse is a waitress in small-town Louisiana with the unique ability of being able to read people's minds. Infact, she has trouble blocking out other's thoughts. When a vampire walks in to the bar, she knows right away and saves him from a couple trying to drain his blood to sell, putting him in her debt. Bill introduces himself and all Sookie hears is silence, she can't read his mind, which is a relief.

Sookie very quickly get sucked in (no pun intended) to the vampire world as she gets closer to Bill. However there's a murderer on the loose, killing women that have relationships with vampires and Sookie knows she could be on the hit list. Can the police catch the murderer before he gets to Sookie?

I actually picked this book up last year to read it but for some reason couldn't get in to it. This time I didn't have any problems, and found the book to be quite fun, though not as enjoyable as the Undead series by Mary Janice Davidson. About 75% of the way through the book I started getting a little tired of it and wished the story would move along a bit quicker. I'm going to try the next book in the series to see if I want to continue reading the entire series.
---

Journal Entry
9
by

AceofHearts

at
Mississauga, Ontario Canada on Sunday, March 13, 2011
This book is with me :)
---

Journal Entry
10
by

AceofHearts

at
Mississauga, Ontario Canada on Friday, March 25, 2011
Sookie Stackhouse is a cocktail waitress in a small town in Louisiana. She leads a quiet life because she has a disability, the ability to read minds. Bill, a vampire comes into the bar and Sookie is immediately attracted to him as she can not read his mind and therefore he is very peaceful to her.

Around the same time some young women who like to date vampires (fang-bangers) start being murdered. Sookie's brother has known all these women and is the main suspect. As Sookie's relationship with Bill grows, Sookie's grandmother is murdered and Sookie realizes she was the target and starts to get involved in finding the killer. This takes her deeper into the dark world of vampires.

As a side story, Sookie's boss is interested in her and happens to be a shape-shifter.

This mystery was just a little too easy to figure out. There were times I wanted to slap Sookie as she just didn't seem to care for her own well-being. I really don't know how I feel about the series and will wait for Lauren's reaction on the next in the series.
---

Journal Entry
11
by
HoserLauren
at
Toronto, Ontario Canada on Saturday, May 07, 2011
Mailed today to my birthday partner.
---