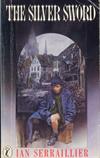 The Silver Sword
Registered by

Annelis

of
Kerava
,
Uusimaa / Nyland
Finland on 3/4/2006
2 journalers for this copy...

Journal Entry
1
by

Annelis

from
Kerava
,
Uusimaa / Nyland
Finland on Saturday, March 04, 2006
The story is about the Baliki family and how there mum and dad get taken away by some Nazis. The story takes place in Poland during the Second World War and tells of how the children set off on a journey across war torn Europe to be eventually re-united with their parents in Switzerland.
Ruth, Edek and Bronia are left to survive on the streets of bombed Warsaw after their father's arrest by the Nazis and their mother's transportation to a German labour camp. The silver sword, a simple paperknife, becomes their talisman and inspires them with courage on their journey to Switzerland.
---

The war is very hard on people and especially children. However, this story is told in such a way that it is not too depressing for children. The adventures on the river and the lake were the most unbelievable.
This is a good read for children of the age of 12-15 years.
---

I took the book to the Post office. It will leave Kerava tomorrow.
Happy reading!
---

Thank you for sending me this wishlist book, Annelis. I found it on my kitchen table when I returned from my summer holiday in Switzerland. I look forward to reading this book by Ian Serraillier as I remember enjoying a book by him when I was a teenager, although I can't remember which one it was. I hope one or more of my children will also read it.
---

I also posted a review on my
Market Garden Reader blog
.
Somehow I had expected this to be about knights and probably Arthurian. I remembered the name Ian Serraillier from shelving books in the school library and thought I had either read this or another of his books. Now I'm certain I didn't read this and I'm not sure I read any others, unless the hated Beowulf the Warrior was the version of Beowulf we had to study in the first year of secondary school (horrible story!). But this is something quite different.
This is the story of an epic journey undertaken by three siblings from war-torn Warsaw (Ruth, Edek and Bronia) with another boy, Jan, who has joined them. After being dragged from her home, the children's mother has fled to Switzerland, her home country, after their father was deported to work in Germany, leaving the children alone. Their house is then bombed flat so they live in the rubble. Jan, a wild, thieving boy, presumably an orphan, becomes attached to them because the children's father had given a paper knife to him as a talisman, begging him to search for his children and tell them to head for Switzerland. The book is the story of their adventure, the people they meet along the way and the setbacks and strokes of luck that befall them.
In spite of everything that happens, I can't say it's the most exciting children's book I've ever read, but that may be due to my advanced age. Plenty certainly happens. However, there are plenty of incidents that ought to be full of tension and places where it could all have gone horribly wrong. It's also notable for the nuanced picture it gives of the points of view of various people they meet along the way. The adults on all sides really come across as sympathetic, explaining why they may have misgivings about the orders they're having to enforce or the reasons they may be strict or unhelpful. Plenty of food for thought.
Ironically, even though this is Ian Serraillier's most popular children's novel, often quoted as a favourite by authors of a certain age, this is the only edition of it on Goodreads. My copy is actually a different one, but I don't have it to hand to update the details, so this one will have to do.
It also inspired me to read a book I bought from my school library in about 1975, Mary Buchanan's The Children's Village, about the Pestalozzi Children's Village in Switzerland.
Read in October 2020.
---