Even Cowgirls Get the Blues
4 journalers for this copy...
A wonderful, playful, imaginative book. I loved it. This is probably the best of Tom Robbins' novels.

To be released at the Meet Up on Monday. I hope it finds its way to someone who will enjoy it as much as I did.
---

My high school was across the street from a giant cotton field and upwind from a dairy (the wind didn't often blow just right, but when it did...). I worked on the family farm of a high school friend one summer during college. How could the title of this book not appeal to me? To the far-too-large TBR pile!
---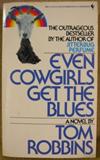 Sadly, I didn't enjoy this book nearly as much as I thought I was going to. My main issues were not with the story, which I enjoyed, but with the author's writing style. His obsession with similes and metaphors drove me crazy at the beginning of the book, but either I stopped noticing it or the usage went down as the book progressed. What really drove me crazy was the way the author would suddenly stop the story for an aside about himself, written in the third person. I don't mind it when authors write themself into the book as a character, which happens here too. But I do mind being pulled out of the story for outside explanation or exposition. In my opinion, such material needs to either be written into the story or left out altogether for the reader to discern (or not) on their own.
Some books are an excellent time capsule of the period in which they were written, and this book was one of those. I mean that as a compliment. More than anything else, this book captures the 70s, or more specifically, the 70s during the second Nixon term. However, I wasn't even born in the 70s, so I may have no idea what I'm talking about.
This book also came with an orange bookmark from Bookland at 787 Higuera Street in San Luis Obispo. I've left it with the book for the next reader to use.
---

Int'l Bookray
Thanks for participating in this bookray. I hope that you will enjoy this book at least as much as I did. I request that you complete the following four steps during this bookray. I'd enjoy it if you posted an entry once you've finished the novel with a book rating and your thoughts, but that's certainly not required.
1. Journal when you receive the book.
2. When you are close to finishing the book, PM the next person in line to get their address.
3. Journal when the book leaves and is traveling on to the next reader.
4. Last person in the ray is free to do whatever they wish with the book.
sgscarcliff (US-Ca) - Int'l ship
spiritinflight (Canada) - Canada preferred
--napper has been kind enough to add the remaining members of this ray onto another ray for the same book. The journey continues here:
Even Cowgirls Get The Blues, by Tom Robbins
.--
Drusillamac (Scotland) - Int'l ship
abrokenstarr (UK) - Not first
BettyBoekwurm (Portugal) - Europe preferred, close to end
---

Sent to sgscarcliff today via media mail.
---
Journal Entry
6
by

sgscarcliff

on Thursday, June 01, 2006
Picked up from mail box this morning. I will read and send on its way. Thanks for sharing.
---
Journal Entry
7
by

sgscarcliff

on Monday, July 10, 2006
This is my second Tom Robbins book, and like the other one I found it fun and quirky. A good read for entertainment. Mailing off tomorrow. I meant to do it today but for got. So the book is now in my tote for mailing.

thanks for sharing
---
---