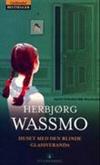 Huset med den blinde glassveranda
1 journaler for this copy...
Herbjørg Wassmo debuterede som lyriker, mens "Huset med den blinde glasveranda" er hendes romandebut, og for den modtog hun den norske kritikerpris og indstilledes til Nordisk Råds Litteraturpris, som hun dog først modtog i 1987 for romanen "Hudløs himmel".

Bogen foregår i et udsted i Nord-Norge nogle år efter 2. verdenskrig. Hovedpersonen, Tora, er resultatet af en af krigens ulykkelige forbindelser mellem en norsk kvinde og en tysk soldat. Man oplever menneskene i det lille samfund, set med Toras øjne, især beskrives Tusindhjemmet (huset med den blinde glasveranda) og alle dets beboere, ene fattige mennesker. Moderen lever sammen med en delvis krøbling, Henrik, som misbruger Tora seksuelt.


Bogen var en del af en bogpakke min mor købte meget billigt på nettet. Jeg har hørt om forfatteren før pga. hendes Dina-triologi.
---
Jeg må ærligt talt indrømme at jeg var lidt skeptsk efter at have læst bag på bogen. "En rigtig menneskeroman" - det lød til at kunne have været noget outdated socialrealisme når det er "bedst". Bogen overraskede mig dog positivt. Jeg synes historien om Tora er skræmmende i enhver henseende, men den er samtidig utroligt fascinerende. Selvom jeg sad lunt i toget og senere under dynen da jeg læste bogen, kunne jeg virkelig føle kulden på dasset i gården, og når Tora løb hjemmefra for at undgå sin frygtelige stedfar.
Bogen er klart anbefalelsesværdig, og jeg vil overveje om jeg skal beholde den, eller om den skal rejse ud i verden, så også andre kan få glæde af den.
---