My Dream of You
3 journalers for this copy...

Received in a bag of books from my stepsister

FROM THE PUBLISHER
Kathleen de Burca is a travel writer based in London. The office is the nearest thing she has to a home. When a quick series of blows strips away the props of her life, she is faced with the frightening imperative of change.

In her crisis she decides to investigate a true story about a relationship so passionate that it burned its way across the barriers of class and culture — a scandalous affair between the wife of an English landlord and an Irish servant during the devastation of Ireland's potato famine.

After an absence of thirty years, Kathleen returns to Ireland to research the story and begins a journey that leads her not only into the historical past, but into a reconsideration of the family she fled years ago. While back in Ireland, she meets a lover of her own who presents her with a choice that promises to alter the course of her life. As she moves toward her decision, she calls on the strengths of her identity as a woman, an Irish woman, and a woman who is no longer young. Meanwhile, she brings the story of the long-ago lovers to a denouement as tender as it is tragic.

My Dream of You explores the extremes of passion, the depths of loneliness, and the resilience of the human heart.

---

Journal Entry
2
by

LynnWrites

from
Tucson
,
Arizona
USA on Tuesday, April 24, 2007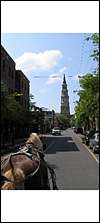 I fell in love with Nuala O'Faolain's writing when I read her memoir, Almost There. I immediately made note of other work by this amazing woman, and started a wish list on Cliff's site in 2007. Someone actually LOOKED AT my wish list !!!! - noumena12 !!!! I received this book from her at the 2007 BookCrossing convention in Charleston. Thank you so much.
Included with this entry is a photo from the convention, taken on a carriage tour of downtown Charleston. The church steeple in the background is famous for being one of the first buildings hit by cannonfire at the onset of the Civil War.
---

Journal Entry
3
by

LynnWrites

from
Tucson
,
Arizona
USA on Tuesday, July 31, 2007
Moved up the reading list to second to next. Then this book will be off to Caridad.
---

Journal Entry
4
by

LynnWrites

from
Tucson
,
Arizona
USA on Wednesday, September 12, 2007

pictured is the author, Nuala O'Faolain
Because I have had very little time to read lately, getting into this book was slow – a page here and a page there just wasn't giving me the "feel" of either the character or the story. Once I finally settled into it, however, I found it to be a deeply satisfying novel. I was eager to continue reading when I found myself at the last page. Sorry to see it end.
O'Faolain writes with an uncensored frankness that is almost raw. This is the first novel of hers I have read. The first book I read was autobiographical.
In this story, Kathleen – a late-40s travel writer on a quest to her homeland to uncover the truth about a woman tried for adultery in the mid 1800s – reveals herself through her narrative with an almost disconcerting honesty. You feel as though you are reading her journal or peering into her thoughts, unnoticed. She is truthful, introspective, and doesn't gloss over her failing (real or perceived. She is both a deeply flawed and deeply likeable woman. Someone you would have a drink with, share your secrets with, want to get to know better.
Kathleen, almost 50, is still discovering herself. When the death of her anchor, a dear friend and colleague, sends her into an emotional tailspin, she attempts to pull out of it by changing the direction of her own life. She quits her job as a travel writer and, thinking she might have the material to write a book, returns to Ireland to make inquiries about a court case--a story of passion—-which has been haunting her since she first came across court transcripts in her 20s. As she begins to piece together the story, she also begins to piece together her own life. Returning to her roots gives her roots. She finally understands who she is, where she came from, and her own passion.
This book will now be passed to Caridad. Thanks, Noumena12, for sharing this one with me.
---
Received today! Looking forward to reading this one since I just recently discovered Nuala O'Faolain, reading 2 of her other books, "Are You Somebody" & "Almost There." Thanks, ~HOTFLASH~, you're another of my new best BC friends.
---