Story of O
4 journalers for this copy...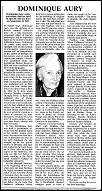 To call this book sadomasochistic erotica is superficially accurate, yet wildly off the mark. Written in the mid-50's under a pseudonym by Dominque Aury, a well-known editor and translator at the French publisher Gallimard, this book won the Prix des Deux-Magots. (CLICK ON THE PIC for more info on Aury.) The authorship was the subject of great speculation until Aury's was confirmed in 1994. Said to have been written because her lover claimed that women are incapable of writing an erotic novel. Boy, was he ever wrong.
---

Journal Entry
2
by
mojosmom
at
U. S. Post Office - 46th & Cottage Grove in Chicago, Illinois USA on Saturday, November 09, 2002
---
I received the book in the mail yesterday. Thanks so much! I'll read and release.
---
Yow. What a book. This was the first book of this type I have ever read and boy was it a doozy!

O, the main character, is a woman who finds herself 'owned' by a man who turns her into a submissive sex slave. She is beaten, forced to do explicit things, and is basically told what to wear, what to say, and how to say it.

I think what intrigued me most about the book is the story behind the author and the fact that it was written in the 1950's when even the word SEX was taboo. To read something that was written in that time period and see some of the very odd and erotic things that happen makes you realize that sex and sexual fantasies have always existed regardless of what society wants you to believe.
---
Release planned for
Thursday, January 23, 2003
at
Bookcrosser's home
in postal release, postal release USA.
Mailing to another BCer in Virginia!
---
received in the mail today - thanks!
---
I read this in high school and now again - uuummmm, doesn't seem quite as decadent as it did then. Sending on to a Illinois bookcrosser.
---
A fellow BXer offered this book on the forums and I jumped at the chance. I had read excerpts, but felt like I was missing the narrative flow of the book in its entirety. So, now I'll get the whole shebang (ha).

Skcreader included a couple of articles about the author, which I'm saving until after I read the book. It's sure to be interesting.
---