Lolita (Twentieth Century Classics S.)
5 journalers for this copy...
A really interesting read. I think it would be wrong to say I 'enjoyed' it, because the subject matter is so disturbing. I also don't want to say too much because this is on its way to the next reader as a gift; maybe after theadi has read and posted a journal I'll be more forthcoming but I don't wish to give away plot because it will ruin the read.
I would say that it's not at all like I expected it would be; all I knew was that it was about a love affair between an old man and a young girl. Illusions have been shattered, let's say.

Off to theadi tomorrow - enjoy and Happy Holidays!!
---
Arrived safely today.
Thankyou very much Navig8r!
---
Wow, what a fascinating read.
I'll be bold and admit that I enjoyed it - yes, the subject matter is unpleasant, but Nabokov's style distracted me.
I found it wasn't difficult to sympathise with Humbert. I'm not saying I think his actions were appropriate at any time, but the playful and frequently humorous narrative helped me understand where Humbert was coming from.
For the most part, I was able to read this book as I would any other well-written and entertaining novel: it frequently became simply the story of a man dealing with a precocious teenager. I was regularly thrown back into harsh "reality", however, when Humbert made passing reference to Lolita's age or discomfort or something similiar. This made me take a mental step back and reevaluate the situation - not at all a pleasant thing to do in this case!

Thankyou, Navig8r, for giving me the opportunity to read this book. I hope to come back to it some day, but I'll pass this copy along to someone else.
---
Taking along to the brunch meet-up tomorrow morning.
---

This book has been on my wishlist for nearly a year so I was happy to add it to my pile at brunch yesterday - a fun day at the very popular Kaleidoscope Cafe.
---

Wow, I had no idea of the content of this book (I guess I must have been living under a rock!), and I now understand why I had vaguely heard of the controversy associated with it over the years and the reason why it was banned.
Humbert Humbert was indeed a paedophile and I was surprised at my "luke warm" disgust towards his behaviour. The story was written in such a way that we did not naturally emphathise with the young 12 year old Dolores/Lolita. She first seduced her stepfather even though he was already obsessed with "nymphets" and her in particular.

The writing in the book was beautiful and the topic was treated very neutrally - unlike the harsh punishment which is metered out to paedophiles!
I did intend releasing this in the wild on the anniversary of the author's death (which occurred on July 2, 1977), but decided this book is probably a little controversial for a wild release - so off to meet-up it will go. Thanks for sharing.
---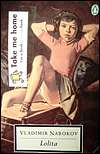 Took it from the meet-up at the 'Royal Melbourne Hotel' on 629 Bourke St., Melbourne tonight. I heard about
Lolita
before, but never had an idea what the whole story was about. So, using this chance to fill another gap!
13/09/2007: Actually finished reading this book today and must say that it definitely took me more than the average time for a book. (Almost 7 weeks - and it's really not very long!) I think the overall story of this book was quite interesting and I enjoyed the style of
Nabokov
. However, in some parts the descriptions are really long and not exciting at all, so overall it only gets 5 stars from my side - just couldn't grasp me!!!
Read as part of the
1 Year = 1 Country Challenge
for Russia.
---

Journal Entry
8
by
UbSiA
at
Victoria University, Footscray Park Campus in Footscray, Victoria Australia on Wednesday, September 12, 2007
Released 11 yrs ago (9/12/2007 UTC) at Victoria University, Footscray Park Campus in Footscray, Victoria Australia
WILD RELEASE NOTES:
RELEASE NOTES:

Will probably leave it in one of the Ladies some time between 10 and 11am and hope who ever finds it, will enjoy it!
---

Hi everyone :)
I found the book "Lolita" by Nabokov in the library's ladies room in Victoria University, Footscray Park campus. I forgot the exact date but it was in the morning in 2007. Actually the book was placed in the rubbish bin. I thought someone left it or threw it up. I was curious and then picked it up. The bin was empty and clean though. I was a bit surprise because I didn't know about BookCrossing book before. I was going to give it to library desk thinking that it belonged to someone. But, when I saw the cover, it says "Take me home..I'm a BookCrossing book, I decided to bring it and read it. However, I have been so busy with school and there were so many uni books I had to read. So I kept delaying to read it. Anyway, I almost lost the book. Excuse me for my careless action. But, then I found the book couple weeks ago in the old boxes containing papers and used books that I was going to give away. I was a little excited.
Now..I plan to read that book..so I will let you know what next will happen with that book. cheers..-icha-
---