FRYS Vellykket nedfrysning av Herr Moro
4 journalers for this copy...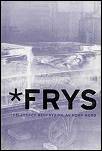 Dette er rett og slett en samling tekster og fotografier. Hver for seg en invitasjon til å vekke fantasien og tanken. Samlet mellom to permer en del av historien om menneskene.
Spørsmålene kanskje viktigere enn konklusjonene. Pensum på 373
sider for alle som i likhet med seigmennene vil strekke seg litt lengre.
____Klippet fra nrk.no:________________________________________________________
Klassiske tekster til ungdommen
"FRYS - vellykket nedfrysing av herr Moro", heter boka som er en samling av klassiske litterære tekster fra Dostojevskij til Beckett og Bjørneboe. Boka inneholder også en rekke historiske svart-hvitt fotografier, blant annet av jødiske massegraver og prostituerte i New York.
Årets viktigste bokutgivelse
Det er foreningen som skal fremme leselyst, "Les!", som står bak FRYS-utgivelsen. Boka lanseres i forbindelse med Verdens bokdag førstkommende mandag, og 240 videregående skoler har allerede bestilt den. Sosialantropolog og forfatter Thomas Hylland Eriksen mener FRYS er årets viktigste bokutgivelse.
- Boka har fremragende innhold og er veldig godt komponert. Den gir et sterkt vedvarende inntrykk - dette var en bok jeg ikke klarte å bli ferdig med, forteller han.
Hylland Eriksen tror også at boka kan være en påminnelse om hvor viktig det er å forholde seg til mellom-menneskelige spørsmål.
- Boka viser hvilken verdi bøker og litteratur kan ha i den sammenhengen, sier Hylland Eriksen.
Kultbok
FRYS ble opprinnelig utgitt for 9.klassinger i Sverige på begynnelsen av 90-tallet, og ble en kultbok der. Og elevene ved Foss videregående skole avviser at dagens 17-18-åringer bare er opptatt av mobiltelefoner og Big Brother.
- Jeg tror mange blir provosert av Big Brother og den type TV. Men dette er en tankevekker og noe helt annerledes enn det vi har sett før. Jeg tror mange 17-18-åringer spør seg eksistensielle spørsmål som: Hva er det å være et menneske? Og kanskje man kan få en hjelpende hånd i denne boka, sier de to skoleelevene.
Se også: http://www.nrk.no/litteratur/983547.html
________________________________________________________________________________

Sender denne boken ut som bokring!

Kaleidoblikk
mariabokmal
Deepswamp
Stormon
LESEHEST
Flere?
Kaleidoblikk

---
Journal Entry
2
by
Kaleidoblikk
at
mail in to another bookcrosser, by mail -- Controlled Releases on Tuesday, February 20, 2007
Released 12 yrs ago (2/20/2007 UTC) at mail in to another bookcrosser, by mail -- Controlled Releases
WILD RELEASE NOTES:
RELEASE NOTES:

Sender denne til Mariabokmaal som en del av en bokring!
---
Boken kom fram idag, ser fram emot att läsa den!
---
Mycket intressant och tänkvärd! Blandningen av bilder och kortare texter gjorde den dessutom väldigt lättläst. Jag kommer nog att leta upp originalet till flera av texterna för ytterligare tankeverksamhet.

Angående att läsa på norska: vissa avsnitt gick jättebra att läsa, andra var mycket svårare. Är det olika dialekter i boken?

Skickar boken vidare till Deepswamp enligt tråden http://www.bookcrossing.com/forum/31/3522720/6.
---
Postas till Deepswamp imorgon!
---

Journal Entry
6
by

Deepswamp

from
Oskarshamn
,
Småland
Sweden on Tuesday, March 06, 2007
Boken är hos mig nu, spännande!
---

Journal Entry
7
by

Deepswamp

from
Oskarshamn
,
Småland
Sweden on Saturday, March 17, 2007
Håller med mariabokmal, kommer att leta upp en del av texterna. Många starka bilder och texter! Tack för att jag fick tips och möjlighet att läsa!!
---

Journal Entry
8
by

Deepswamp

from
Oskarshamn
,
Småland
Sweden on Friday, March 23, 2007
På väg till stormon
---
---
....och här har den, till min stora skam, blivit liggande! Jag har läst väldigt lite under de senaste månaderna och det ser ut att bli likadant ett tag framöver, så jag skickar boken vidare utan att läsa.
---