Human Croquet
3 journalers for this copy...

Wrong cover picture, but this is another man down from my wishlist...
---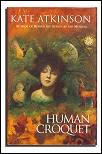 (13/03) Finished! Review to follow...
First things first, I didn't really get the 'Human Croquet' bit – a reference to sort of parlour game involving a lot of people playing croquet without equipment; the 'ball' is blindfolded and pushed along through arches made by others. So this could be a clever allusion to us all making our way in life, or the interaction of humans – not really sure?
Anyway, Kate Atkinson does not disappoint if you liked 'Behind the Scenes at the Museum'; an unusual mystery-cum family drama, great characters and feeling for time & place. Not great literature, but IMHO great engaging storytelling.
The book starts with the pre-history of the world(!) and the Fairfax dynasty, Boscrambe wood and the Lady Oak…and ends with the death of the ancient tree and musings on the end of the world and the end of time! Time features quite a lot, with Isobel Fairfax wondering about where 'saved time' is kept, and the possibilities of 'making time' – in a factory? – and the physicality of time as molecules? Also, as per 'Museum' Atkinson goes back and forward in the narrative at will, compounded by Isobel having her own time travel episodes and an extended dream-like sequence of parallel alternative presents!
The meat of the novel follows Isobel as she comes up to her 16th birthday, "I am nearly two yards high in my bare feet. A gigantic English oak. My body a trunk, my feet taproots, my toes probing like pale little moles through the dark soil. My head a crown of leaves growing towards the light". Isobel and her brother Charles are trying to piece together the history of their mother who went missing, and why their father 'died' and then came back 7 years later with a new mummy for them.
---

Released 13 yrs ago (3/17/2006 UTC) at
WILD RELEASE NOTES:
RELEASE NOTES:

Posting as part of my 'Spread the Word' bookbox
---
arrived in BGM's bookbox. I've read this already and didn't enjoy it nearly as much as the other books I've read by this author. Don't let that put you off!! It's just that my expectations were high after the joy of Behind the Scenes at the Museum and this was a huge disappointment. You may love it though.
It'll be back in the jiffy bag to continue on its way :-)
---
Taken from Bookgroupman's 3rd birthday 'spread the word' Bookbox.
This was on my wish list although I haven't yet read anything by this author. Looking forward to reading it.
---