The First Men in the Moon
4 journalers for this copy...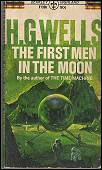 Berkeley Highland paperback 1967.
---

Now a bookray with these participants:
1.
yvensong
Reno, NV
2.
lolly-the-tall
Surbiton, Surrey, UK
3.
xoddam
Sydney, New South Wales Australia
4. could be you
5.etc.
PM me if you'd like to join.
---

The First Men in the Moon are flying to Reno in their Cavorite sphere. Enjoy!
---

Wow! I'm surprised it took so long to get to me! Maybe it took a detour to the moon before landing in Nevada.

It has arrived at the perfect time, though. I had just finished my last bookring and was trying to decide what to read next.

Thanks for sharing this with us, Rico-Verde. :)
---

Originally written in 1901, maybe the science in this little sci-fi pulp didn't seem so far-fetched to some of the readers as it will today. This does not really deter from how well-written the book is and the enjoyable storyline.

In addition, as with many of Wells' novels, he intersperses much of his social/politcal commentary throughout which fits very well with this book.

Thanks for sharing this Rico-Verde. I will get this in the mail to lolly-the-tall as soon as I can get to the post office. Hopefully, this week, as they have taken my immediate area off of flood watch and it is supposed to stop raining by tomorrow. (This would be a good time to have one of those Cavorite spheres!)
---

I put this in the mail yesterday. It is on its way to lolly-the-tall by airmail!
---
recieved today, will start it very soon! Thanks.
---
Enjoyed this one alot, not as much as war of the worlds though. I love the 'wrong' science. I really like how you get to see both sides of the story, first from Bedford then from Cavor (even though Cavor's view is short, disjointed).
Wells isn't afraid to have an unlikeable 'hero', which I like alot. It's very difficult to ssay more without giving anything away!
PM'd for X's addy, will get it off to him soon as.
---
This waited a little while at the post office before I used the excuse of being already late for work to go and fetch it at 9am. The Coogee post office actually is open of a Saturday morning but on Saturdays I let myself sleep in and get forgetful :-)

Many thanks Lolly, and for the card as well. I'm putting the book down on the long list on my bookshelf page of bookrings/rays to be read ... I'm not likely to get there within 30 days, but no-one is yet on the list after me so that's OK. If anyone else signs on to the bookray please let me know so I don't leave it TBR excessively long.
---
Fascinating.
I'm familiar enough with H G Wells (my favourite book of his is The New Machiavelli) that his narrator's imperialism -- he actually uses the words "white man's burden" in earnest!!! -- didn't surprise me, but it still grated.
I'm quite intrigued by the question of the Moon's relative lack of density with respect to the Earth; it's natural to suppose the two bodies are made of similar materials but it is now understood that the Moon lacks both the Earth's very dense, very hot metallic core and those lighter materials (air and water) which the Earth's greater surface gravity retains. In the absence of detailed knowledge about the Earth's core, I suppose it makes some sense to guess instead that the Moon is somewhat hollow!
Since this is a ray, I am now at liberty to dispose of it thoughtfully. At the moment I'm intending to add it to
neerav
's "Quality SF bookbag" when that comes around to me.
---