The Bourne Identity
3 journalers for this copy...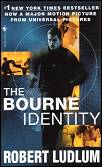 Book Description
Jason Bourne. He has no past. And he may have no future. His memory is blank. He only knows that he was flushed out of the Mediterranean Sea, his body riddled with bullets.
There are a few clues. A frame of microfilm surgically implanted beneath the flesh of his hip. Evidence that plastic surgery has altered his face. Strange things that he says in his delirium -- maybe code words. Initial: "J.B." And a number on the film negative that leads to a Swiss bank account, a fortune of four million dollars, and, at last, a name: Jason Bourne.
But now he is marked for death, caught in a maddening puzzle, racing for survival through the deep layers of his buried past into a bizarre world of murderous conspirators -- led by Carlos, the world's most dangerous assassin. And no one can help Jason Bourne but the woman who once wanted to escape him.
About the Author
ROBERT LUDLUM was the author of twenty-one novels, each a New York Times bestseller. There are more than 210 million of his books in print, and they have been translated into thirty-two languages. In addition to the Jason Bourne series--The Bourne Identity, THE BOURNE SUPREMACY, and The Bourne Ultimatem--he was the author of The Scarlatti Inheritance, The Chancellor Manuscript, and The Apocalypse Watch, among many others. Mr. Ludlum passed away in March, 2001.
Book Details
Paperback: 520 pages; Publisher: Bantam Book (March, 1994; new edition September, 2001); ISBN: 0553260111
---

I started an international BookRay with this book. You can join any time you want, just send me a PM.
BookRay participants:
1.
CrazyTabasco (Germany)
2.
izinha82 (Brazil)
3.
marcao (Brazil)
- - - BookRay was lost here - - -
4.
reptlian (USA)
5.
Diamondlucy (Austria)
6. chich (France)
7.
darjeeling (Portugal)
8.
lisatam (Portugal)
9.
ElHurricane (Portugal)
10.
Somipago (Germany)
11.
PinkManager (Greece)
12.
valerouilleicn (France)
13.
briskel (Australia)
14.
15.
.
.
.
---
Journal Entry
3
by
CrazyTabasco
at
BookRay in -- Per Post geschickt/ Persönlich weitergegeben --, Baden-Württemberg Germany on Monday, August 29, 2005
Released 14 yrs ago (8/30/2005 UTC) at BookRay in -- Per Post geschickt/ Persönlich weitergegeben --, Baden-Württemberg Germany
WILD RELEASE NOTES:

I'll send the book to
izinha82
at Tuesday, the 30. August 2005. Enjoy it...
CU... CT
---
I was worried about this little one. There's a mail service strike going on in Brazil and I was thinking maybe this book wouldn't make his way. But here it is, safe and pratically new. I'll be reading it as soon as I finish Snow Crash.
---
Thanks again for the book, Crazy Tabasco! It's an exciting book, with a lot of surprises and misteries - and it keeps good to the end. I'll get in touch with Marcao ASAP.
---
The book is off to Pernambuco! Happy trip!
---
It is in my hands, thanks izinha82!
---