Three To Get Deadly : A Stephanie Plum Novel
Registered by

Starbucks7545

of
Warren
,
New Jersey
USA on 8/28/2005
This book is in a Controlled Release!
4 journalers for this copy...
Journal Entry
1
by

Starbucks7545

from
Warren
,
New Jersey
USA on Sunday, August 28, 2005
Donated to the OBCZ in Starbucks, Warren, NJ by a generous reader. Enjoy!
---
Journal Entry
2
by

Starbucks7545

from
Warren
,
New Jersey
USA on Tuesday, October 11, 2005
A great book - laugh out loud funny. On its way to a new home with doveilibri. Enjoy!
---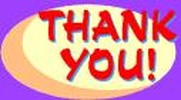 Thank you! Thank you! Thank you! I am trying to read the Stephanie Plum novels in order, and this RABCK will definately help! You have helped to renew my excitement about Book Crossing, which has been taking a beating lately due to never having any of our
MANY
releases caught journaled *AND* even controlled releases disappearing into the void of cyper space! Thanks again!
Now, I need to tell you that these are going onto a really
HUGE
"To Be Read" Mountain. You may not hear from them for a while because with reading for school/work, bookrings and book rays that have all come at once, and books that I have to read because I arranged trades, it may actually be next YEAR before I get to CHOOSE what I want to read next! LOL! But, be assured that when I've read these books, I
WILL
post a journal entry and pass them on to someone else in true Book Crossing fashion!
Place Your Pin On My GUEST MAP! Click Here!
---

I haven't read this one, yet, but I'm lending it to a resident at the nursing home where I work! A co-worker (Kimilibri) and I turned her on to the Stephanie Plum books, and she's on the third one now. I'm in the middle of a *TON* of rings/rays/trades, so I won't be getting to this for a while and it'll be nice to see someone else enjoy it meanwhile!!!!

Added August 15, 2006: Started reading this today! I love Stephanie Plum and can't wait to see what she (AND Morelli, AND Ranger, AND GRandma Mazur ...) are up to this time!!!
---

Journal Entry
5
by
Dove-i-Libri
at
-- By Hand or Post, Ray/ring, RABCK, Meet-up in Fort Myers, Florida USA on Sunday, August 20, 2006
Released 13 yrs ago (8/21/2006 UTC) at -- By Hand or Post, Ray/ring, RABCK, Meet-up in Fort Myers, Florida USA
WILD RELEASE NOTES:
Sent via media mail to my Stephanie Plum "reading buddy" Little Minx in Tulsa Oklahoma. Happy Travels, Little Book! Happy Reading, Little Minx!
---
Thank you, DoveiLibri! I have yet to start this series (I know, shame shame! LOL), but I am going to start on it asap so I can keep these books moving.


10/11/07 UPDATE: Currently Reading!!!


RESERVED FOR TRADE with elle311. Will mail next weekend once I've finished the book, and dh gets paid.
---
Received this in the mail today and can't wait to see what Stephanie gets herself into...Thanks for the trade littleminx ;)
---
The stories keep getting better and better...in this one, Stephanie has to bring in a saintly old candy store owner and everyone is upset with her. He may be involved with the deaths of several drug dealers but everyone says at least they are off the streets. Of course, he has a deep, dark secret, and leave it to Stephanie to stumble upon it. Love the on-again/off-again relationship between Stephanie and Joe, the antics of Grandma Mazur, and especially the descriptions of the dinners Stephanie's mom makes every night, complete with dessert!
---
Been shelfish with fellow BCer's books and they deserve to be read! Sending back out into the world via KateKintail and BCinDC ...Happy travels, little book!

Hello!
What you have in your hands is an honest-to-goodness gift, no strings attached. You may keep it forever and ever, pass it on to a friend, or release it in the wild like I did. I know it may seem a little odd to find this lying around--it's my way of touching the lives of others in a positive way, with the hope that it made your day. ;)

If you are new to BookCrossing and find this book and this site, welcome! Enjoy the site, the book and hopefully the BookCrossing community. I hope you'll join BookCrossing (doesn't cost anything to join!) and if you do, please consider using me, elle311, as the member who referred you. Or you may remain anonymous!

If you are an old hand at BookCrossing, thanks for picking up the book! Either way, I hope you'll journal so all the previous and future readers can track this book's journey.

Happy reading and Happy BookCrossing!


---