Schliemann und Sophia
Registered by
blups25
of
Kyoto / 京都市
,
Kyoto-fu
Japan on 7/16/2005

This Book is Currently in the Wild!
4 journalers for this copy...
Das Bild ist weltberühmt: Sophia Schliemann in Troja, geschmückt mit dem "Schatz des Priamos2. Doch Sophia war mehr als nur die schöne Griechin an der Seite des Troja-Entdeckers Heinrich Schliemann. Danae Coulmas erzählt zum erstenmal die dramatische Liebesgeschichte, die zugleich die Biographie eines Paares ist, das Geschichte gemacht hat.

Nun ja, der Klappentext behauptet zwar, dass Sophie "mehr" war, als nur die schöne Griechin an Schliemanns Seite, doch nach der Lektüre des Buches habe ich den Eindruck, sie war tatsächlich nur ein Schmuckstück für ihn, den Tyrannen. Schliemann hat sich die 30 Jahre jüngere (!) Sophia ausgesucht aus einer Reihe Photos junger Griechinnen, und sie ihren Eltern quasi "abgekauft". Sophia ist auch prompt nach der Hochzeit krank geworden, erkrankt an Heinrich, heute würde man ihr eine Psychotherapie ans Herz legen, Schliemann schickte sie zur Bäderkur - wie so oft in den über 20 Jahren ihrer Ehe. Sophia musste unterschreiben, dass sie Heinrich willig auf seine Reisen begleitet, sie durfte keiner Widerworte geben, keine eigene Meinnung haben, bekam ein lausiges Haushaltsgeld (der Herr Millionär war schrecklich geizig), durfte nur gut aussehen und sich von Heinreich ein wahnwitziges Pensum an Sprachen lehren lassen. Damals mögen solche Ehearrangements üblich gewesen sein, heute dreht sich der modernen Leserin der Magen um.

Das Buch konzentriert sich fast ausschließlich auf die Ehe der Schliemanns, die Ausgrabungen werden nur erwähnt, wo sie in diesem Zusammenhang erwähnt werden müssen. Das ist schade, ein wenig mehr Informationen zur Troja-Entdeckung hätten dem Buch sicher gut getan. Auch fand ich den Stil nicht immer sehr leicht zu lesen, das "literarische Talent", das die Süddeutsche Zeitung laut Klappentext in diesem Buch entdeckt hat, konnte ich nur bedingt finden.
---
Journal Entry
2
by
blups25
at
Biographien-Bookbox in Biographien-Bookbox, Bookbox -- Controlled Releases on Friday, October 21, 2005
Released 13 yrs ago (10/21/2005 UTC) at Biographien-Bookbox in Biographien-Bookbox, Bookbox -- Controlled Releases
WILD RELEASE NOTES:
---

Ich habe das Buch gerade aus der
Biographien-Bookbox
von blups25 genommen. Freue mich schon aufs Lesen!
---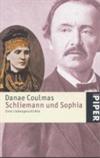 Es ist wirklich schade, daß Danae Coulmas nicht auch nur ein wenig erklärt, wer dieser Schliemann da überhaupt ist. Und dann auch so gar nicht herausarbeitet, was denn Sophia mehr war als die schöne Griechin an seiner Seite. Irgendwie hat mich das irgendwann so genervt, daß ich das Buch weggelegt habe.
Das Buch ist Teil meiner
"Vom Mount Everest zum Brocken"-Challenge
(8. Buch für November - herbstlich orange-braun-graues Cover).
---

---
wandert auf meinen Lesestapel!
---
Journal Entry
7
by

Buecherstueble

at
Bad Grönenbach, Bayern Germany on Friday, September 30, 2011
darf sich im Regal bei den Biographien ausruhen bis jemand Zeit zum Lesen findet!
---
Journal Entry
8
by

Ghanescha

at
Café Gloria (OBCZ) in Zürich, Zürich Switzerland on Tuesday, March 13, 2012
Released 7 yrs ago (3/13/2012 UTC) at Café Gloria (OBCZ) in Zürich, Zürich Switzerland
WILD RELEASE NOTES:
Hello! Bookcrossing is a online community of book lovers dedicated to sharing books with each other and the world at large. We are curious to see how far and wide it will travel and how its readers like it. Kindly make a journal entry to let us know it's found a new reader.

Feel free to read and keep this book, pass it on to a friend, leave it back on the shelf or somewhere else for the next reader. If you journal this book as a member, then you will hear from the book as it travels around. Happy reading!

Liebe Finderin, lieber Finder,
Gratulation, dass Du dieses Buch gefunden hast! Ich hoffe, es gefällt Dir. Du hast nicht nur ein Buch, sondern eine ganze Gemeinschaft von Leserinnen und Lesern gefunden, die Bücher lieben. Schau Dir die Seite mal an! Ich würde mich sehr freuen, wenn Du Dir die Zeit nimmst, einen Journal-Eintrag zu machen und mich so wissen zu lassen, wo das Buch gerade ist und was Du damit vor hast. Vielleicht willst Du Bookcrossing ja beitreten? Das ist anonym, kostenlos und macht Spaß!
---