Pandora
3 journalers for this copy...
Amazon.co.uk Review
Jilly Cooper readers can always count on her to deliver the goods in her larger-than-life novels: a host of colourfully drawn characters, outrageous situations (always kept just the right side of plausible), compulsive plotting and (of course) a healthy dose of unbuttoned eroticism. Pandora has all the Cooper fingerprints and is the kind of shameless wallow that the lively Ms Cooper always unfailingly provides.

Raymond Belvedon is a young subaltern in 1944, advancing with the troops across Normandy, when he encounters a burning château. Recently occupied by a Nazi commander, the château is now deserted, and on the wall Raymond sees a small painting of Pandora unleashing the seven deadly sins from her famous box. Thinking he's found a Raphael, Raymond takes it from the frame and escapes. Four decades pass and Raymond has now established himself as a top art dealer with his own prestigious gallery in Mayfair. The picture of Pandora is the pride of his impressive Cotswold home where his six children were born. But he has a surprise in store: another grown child makes an appearance with her seductive boyfriend, Zac. The latter has designs on Raymond's Raphael. Under cover of a firework party, the Raphael goes missing.

Cooper's breathless narrative whisks the reader from London to Vienna, Geneva, Paris and New York in the hunt for the missing painting, building towards a sharply handled court case and a tense sale at Sotheby's. Cooper's territory here is the international art world, which has all the pre-requisite angles for Cooper-style drama, with its duplicitous dealers, avaricious artists and casual morality. There are some strong new protagonists here, such as the selfish artist Sienna, and Cooper also includes some familiar characters (including her trademark beguiling animals). Raymond, too, is one of her most richly drawn creations. Cooper fans need not hesitate. --Barry Forshaw --This text refers to the Hardcover edition.

The Sunday Times
'Triumphantly good'

---

Picked this up from the Stamford Arms OBCZ at the meetup last Saturday.
---

As always, a fun, undemanding read from Jilly Cooper...
---

Journal Entry
4
by
nice-cup-of-tea
at
Teddy Summer 2005 in Zürich, Zürich Switzerland on Saturday, July 30, 2005
Released 13 yrs ago (7/30/2005 UTC) at Teddy Summer 2005 in Zürich, Zürich Switzerland
WILD RELEASE NOTES: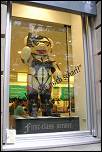 RELEASE NOTES:
32 Baervers - in the opticians shop next to the St Annahof Coop.
The Baervers bear (or dominatrix bear) keeps being nicked / vandalised, so it's now behind a glass window! I thought the racy Pandora belonged there as well!
Click here for all the Teddy Releases!

---

Journal Entry
5
by

AnonymousFinder

on Sunday, July 31, 2005
Just found the book yesterday, planning to read it soon. First time in bookcrossing...

CAUGHT IN ZÜRICH ZÜRICH SWITZERLAND
---