Claudia's Shadow
Registered by
dutch-flybabe
of
Lent (gem. Nijmegen)
,
Gelderland
Netherlands on 12/4/2005

This Book is Currently in the Wild!
1 journaler for this copy...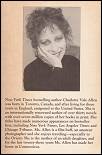 A gift from Sinterklaas :-)
From amazon.com:
'
Editorial Reviews
From Publishers Weekly
Ding dong, Claudia's dead, and there is no shortage of people lining up to remind her surviving older sister just what a witch she was. In Allen's latest novel (after Somebody's Baby), Rowena Graham, an insecure and cautious librarian, can't accept the police finding of suicide by overdose of pills and whiskey. It seems that game-playing Claudia would have left a note-if only to cause others as much pain as possible-and she never drank Chivas Regal. As her younger sister's sole beneficiary, Rowena, 39, inherits an expensive Fairfield County, Conn., home, a posh New Canaan restaurant and a fabulous wardrobe. Investigating Claudia's life and death, Rowena focuses on Anthony Reid, an attractive psychiatrist whom Claudia had claimed as her boyfriend but who says that the dead woman was suffering from "erotomania" and was stalking him. Before long, it looks like the newly smoking, drinking and well-dressed Rowena is turning into Claudia-a situation that perhaps only the revelation of buried secrets can remedy. Rowena's transformation never quite washes, but those who enjoy psychological suspense stories about dysfunctional families will find satisfying diversion here. Copyright 1996 Reed Business Information, Inc.
From Booklist
Allen's ability to explore complex characters by delving into the emotional and intricate puzzle of troubled family relationships creates a realistic framework for this compelling novel. The mysterious circumstances surrounding Claudia's suicide force Rowena into a search for the truth about her younger sister and their dysfunctional family. Claudia's untimely death at 37 and unexpected bequest of her estate allow Rowena the freedom to alter the direction of her life. She returns to their childhood home and blossoms as the hostess in Claudia's upscale restaurant, thriving in the world that the vain and self-absorbed Claudia left behind. When Rowena inadvertently finds explicit videotapes of Claudia's sexual encounters, she becomes obsessed with her sister's history of mental and emotional problems and contacts Dr. Anthony Reid, Claudia's former psychiatrist and lover, but is unable to accept his theory to justify Claudia's behavior. Allen leads the reader effortlessly through her latest work, and loyal fans will not be disappointed. Liz Rifken'
---
Journal Entry
2
by
dutch-flybabe
at
Lent (gem. Nijmegen), Gelderland Netherlands on Saturday, February 11, 2023
---
Journal Entry
3
by
dutch-flybabe
at
Albert Heijn Daalseweg in Nijmegen, Gelderland Netherlands on Thursday, March 23, 2023
Released 2 mos ago (3/23/2023 UTC) at Albert Heijn Daalseweg in Nijmegen, Gelderland Netherlands
WILD RELEASE NOTES:
In the cupboard in the frozen section. Happy travels!
Hallo vinder!
Als je dit leest, heb je een zwerfboek gevonden. Gefeliciteerd!
Je kunt dit boek lezen, eventueel vermelden wat je er van vond (dit kan anoniem en gratis) en het daarna weer loslaten in het wild of doorgeven aan iemand anders.
Als je dit boek wilt volgen op zijn 'wereldreis' dan kan je je aanmelden als nieuwe bookcrossers via de engelstalige webpagina www.bookcrossing.com. Ik zou het leuk vinden als je mijn naam (
dutch-flybabe
) dan invult als 'referring member'.
Nederlandstalige uitleg vind je op www.bookcrossing.nl. Neem ook eens een kijkje op het Nederlandse bookcrossing forum: www.bookcrossing.com/forum/15
Heel veel lees- en bookcrossingplezier!
To the finder of this book:
Hello and congratulations! You have not only found yourself a good book, but a whole community of booklovers dedicated to sharing books with each other and the world at large. I hope you'll stick around a bit and get to know BookCrossing --maybe even make a journal entry on this book. You may choose to remain anonymous or to join (its free!) And if you do choose to join, I hope you'll consider using me,
dutch-flybabe
) , as your referring member.
Feel free to read and keep this book, or to pass it on to a friend or even set it out "in the wild" for someone else to find like you did. If you do choose to join and journal, then you can watch the book as it travels- You'll be alerted by email each time someone makes another journal entry. It's all confidential (you're known only by your screen name and no one is ever given your e-mail address), free, and spam-free.
Happy reading!
---