The Girl Next Door
6 journalers for this copy...

This remains one of the most disturbing books I've ever read. This is the Leisure paperback edition and does not contain the intro that Stephen King wrote for it in the limited edition a few years back.
---
Paperback, 370 pages

From the back cover:
Suburbia. Shady, tree-lined streets, well-tended lawns and cozy homes. A nice, quiet place to grow up. Unless you are teenage Meg or her crippled sister, Susan. On a dead-end street, in the dark, damp basement of the Chandler house, Meg and Susan are left captive to the savage whims and rages of a distant aunt who is rapidly descending into madness. It is a madness that infects all three of her sons—and finally the entire neighborhood. Only one troubled boy stands hesitantly between Meg and Susan and their curel, torturous deaths. A boy with a very adult decision to make...
---

Going out on a bookring! Mailing order:
---
Part of a bookring! Thanks, Mel!
---

Journal Entry
4
by

jare

from
Port Richey
,
Florida
USA on Monday, July 18, 2005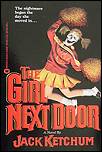 This made it to my home safe and sound today... I'm so excited although a bit nervous about reading this! I've wanted to read this book for so long, and have heard so much about it (particularly how utterly disturbing it is). And here's a cool "classic" cover of this book! It's next in line, then I'll be passing it on!
---

Journal Entry
5
by

jare

from
Port Richey
,
Florida
USA on Friday, July 29, 2005
This is truly the most disturbing book I have ever read. I just couldn't believe what I was reading! Horrific! I so wanted to just put this down, quit reading, but I couldn't help myself. I guess, like the kids, I had to keep watching, just to see how far it would go. It just worked on so many levels, and had a way of really making me dig deep inside and examine my own moral structure. Shows just how vulnerable and easily manipulated children can be in our all-too-adult world. Thanks, mellion108 for sharing this! I zipped through this in 4 days, which is unprecedented for this slow reader! I should have this out to Suebo very soon!!
---
Book arrived safe and sound in Philly, PA. Thanks!

Reserved for Anni

---
This was the first Ketchum book I read and I really loved it. Can't wait to read another one of his.
---
Journal Entry
8
by
Suebo
at
Controlled Release in Vineland, New Jersey USA on Tuesday, September 27, 2005
Released 15 yrs ago (9/27/2005 UTC) at Controlled Release in Vineland, New Jersey USA
WILD RELEASE NOTES:
RELEASE NOTES:

sending out as part of a bookring!
---
I zipped through this book. My first Ketchum book and he can definitely spin a tale that is hard to walk away from.
---

The book made its way back home (thanks, Anni99!). I hope to release it in the near future so it can continue its journey. Thanks to all who participated in the ring!
---

This disturbing little tome will be making its way to Cyprus and into kislany's hands. I hope you enjoy it!
---
Received this book a while ago, sorry for not journalling it sooner. Just noticed it now that it's not on my shelf when I picked it up to read.
---