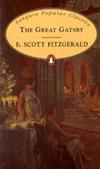 The Great Gatsby (Penguin Popular Classics)
4 journalers for this copy...
In 1922, F Scott Fitzgerald announced his decision to write "something new--something extraordinary and beautiful and simple, intricately patterned". That extraordinary, beautiful, intricately patterned and, above all, simple novel became The Great Gatsby, arguably Fitzgerald's finest work and certainly the book for which he is best known. A portrait of the Jazz Age in all of its decadence and excess, Gatsby captured the spirit of the author's generation and earned itself a permanent place in American mythology. Self-made, self-invented millionaire Jay Gatsby embodies some of Fitzgerald's--and his country's--most abiding obsessions: money, ambition, greed and the promise of new beginnings. Set in the post-Great War Long Island/New York world of the rich. The narrator, Nick Carraway, sympathetically records the pathos of Gatsby's romantic dream which founders on the reality of corruption, the insulated selfishness of Tom and Daisy, and the cutting edge of violence.


---
---
---
chegou hoje no correio (sensação de deja vu, lol)

obrigada xeyra
---
sending to newf as a trade on the relay site
---
Received in the mail today via bookrelay. Thank you for sharing it.
---
I read this during a geolgy field trip in southern California. This is one of those classics that I had heard about for years and never gotten around to reading. It was not really what I expected, and moves pretty slowly in the first half. I quite enjoyed the tragic story, and will probably look for more of Fitzgerald's writing.
---
Journal Entry
8
by
newf
at
Thyme and Again, Wellington St. in Ottawa, Ontario Canada on Friday, September 08, 2006
Released 14 yrs ago (9/8/2006 UTC) at Thyme and Again, Wellington St. in Ottawa, Ontario Canada
WILD RELEASE NOTES:
RELEASE NOTES:

Will leave this on a chair or table in the cafe.
---
found this book at my work "Thyme and Again" in Ottawa, thanks for leaving it there Newf. It was my first time catching a book and the first i'd heard of Book Crossing. I very much enjoyed it and hope to catch others! I'd read this book in high school and had to write essays, and discussion notes about it. I really enjoyed rereading it and actually getting lost in the story without worrying about looking for metaphors and imagery, etc. I'm going to release it today in London Enlgand where i'm currently living.
---