The Optimist's Daughter
1 journaler for this copy...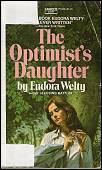 1973 Fawcett Crest paperback.
This is a book about love, memory & grief, and the strength to go on living in an antagonistic world.When her father dies, Laurel, a war widow from Chicago, returns to her hometown in rural Mississippi. She clashes with her stepmother Fay, a delightfully noxious character. Over the course of the book, Laurel is transformed by her experience first of her father's death, then of his funeral, and finally of the memories she unearths in her dead mother's letters. Fay, only slightly older than Laurel, is a brutish character who, in her own words, "belongs to the future." Her every unconscious gesture is an assault on Laurel's reflective sensibilities. In the end, Laurel is redeemed by her memories, and finds herself able to live & let live, in regard to Fay. There is something mysterious in the way the character Laurel unfolds. She comes across as a bit of a cipher in the early going. By the closing chapters, though, I felt a strong emotional sympathy for her. There is symbolism throughout the book, some of it subtle and deft, some a little heavy handed. In the book's second chapter there is an example of symbolism well done. Laurel looks out the window of her dying father's hospital room.
Quote:
This was a nowhere. Even what could be seen from the high window might have been the rooftops of any city, colorless and tarpatched, with here and there small mirrors of rainwater. At first, she did not realize she could see the bridge—it stood out there dull in the distance, its function hardly evident, as if it were only another building. The river was not visible. She lowered the blind against the wide white sky that reflected it. It seemed to her that the grayed-down, anonymous room might be some reflection itself of Judge McKelva's "disturbance," his dislocated vision that had brought him here.
The city is New Orleans; the river, the Missisippi. Judge McKelva came here for an eye operation. His sight has been failing for some time. This, of course, is symbolic in itself. In marrying Fay, with whom he has nothing in common, and thereby betraying the deep love he shared with Laurel's mother, the judge willfully obscured his own vision. He failed to see the indignity in his action. At this early stage in the novel, however, only a superhuman reader could interpret his malady in these terms. There's simply not yet enough information to do so. And so it is with the bridge and the river. There's a vague sense that they hold some significance. In the circumstances, one would associate the bridge with death. But death is a commonplace, at home anywhere or in any "nowhere." There's a sense that the bridge and the river make the city somehow unique; that they hold some kind of meaning for the city. Furthermore, the idea of the bridge's function doesn't sit well with the morbid interpretation. What is the "function?" We find out 150 pages later as Laurel recalls the train ride she and her husband-to-be, Phil, took on their way from Chicago to be married in Mississippi. On the bridge over the confluence of the Ohio & the Mississippi, Laurel has an epiphany.
Quote:
And they themselves were a part of the confluence. Their own joint act of faith had brought them here at the very moment and matched its occurrence, and proceeded as it proceeded. Direction itself was made beautiful, momentous. They were riding as one with it, right up front. It's our turn! She'd thought exultantly. And we're going to live forever.
Left bodiless and graveless of a death made of water and fire in a year long gone, Phil could still tell her of life. For her life, any life, she had to believe, was nothing but the continuity of its love.
She believed it just as she believed that the confluence of waters was still happening at Cairo.
The confluence of waters, the matrimonial confluence of lives; for Laurel, these are sacred things. To lose sight of them, to deny the continuity of love, as her father did in marrying Fay, is a tragic cheapening of life. That way lies "nowhere."
* * * * * * * * *
Bookray:
1.
-Psyche-
Red Wing, MN
2.
Karenlea
Glendale, California (prefers to ship USA)
3. could be you
4. etc.
---

The Optimist's Daughter is winging her way to the land of a thousand lakes. Enjoy!
---