The Blue Nile
4 journalers for this copy...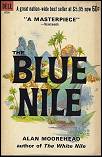 1963 Dell paperback edition.
---

International bookring with these participants:
1.
bilbi
Chambery, Savoie, France (can ship international)
2.
caligula03
Hayward, CA, USA
3.
Ibis3
Ottawa, ON, Canada
4.
nanny60read
Toronto, ON, Canada
5. could be you
6. etc.
---

Alright bilbi, The Blue Nile is on the slow boat to France (surface mail). Look for it in 4 - 6 weeks.
---

What an impressive book I've just received !! Thanks a lot to share it !
Just a bookring to read and I'll able to start this one !
\o/\o/\o/ THANKS THANKS THANKS \o/\o/\o/

---

Terrific book ! I've learnt a lot of thinks. Hope others will read it !
---

I forgot to tell something about the book. There's a chapter about the French in Egypt. At that time, Savoy (where I live) was not French. We became part of France in 1860. Before we were independent and Savoy was a huge "county" from Turin in Italy to Nice* (yes, the French Riviera - which was not French either at that time). What ? History is complicated, how dare you ??!! ;-)


* Well, Savoy may not have been still that huge by the time of its independence but used to be
---
Book is here. I'm looking forward to reading it.
---
The book is slanted towards the history of battles fought over lands in the region and has only glancing information on things like the arts and culture of the region. The chapters on the French invasion of Egypt does have some interesting observations on the reactions of the various groups to being invaded and occupied that are still relavent given the present day mess in Iraq.
---
Journal Entry
9
by
caligula03
at on Thursday, March 02, 2006
Released 13 yrs ago (3/16/2006 UTC) at
WILD RELEASE NOTES:
RELEASE NOTES:

Mailing to Ibis3.
---

Received safely in the mail today. Once I'm done Middlemarch, I'll start on this one.
---

Alan Moorehead is a great historiographer, bringing these tales of exploration and war to life. The depictions of the various people involved in the history of The Blue Nile were excellent--I really got the sense that I knew these people from the adventurer-academician Denon to the absolute nutter, Emperor Theodore. The descriptions of the geography and living conditions were outstanding too.

I also found it very insightful--though these wars happened in different centuries and in a different area of the world, it seems as though the conditions and results of invading armies from the West have changed very little. It's made me curious too about what happened in Sudan and Ethiopia following the British retreat after Magdala--what are the circumstances which gave rise to the current situation in Darfur? As well, it's been over 40 years since Moorehead wrote his epilogue. What's it like travelling up the Blue Nile now?

Some pictures would have made the book even better.

I've asked nanny60read for her address and will be sending it on to her soon.
---

Couldn't get in touch with nanny60read, so I sent this back to Rico-Verde on May 23rd.
---

Thanks Ibis3 and everyone else for a successful bookring. The Blue Nile is back in Florida.
---