Geek Love
4 journalers for this copy...

I read this in the early 90s, and I loved it. Dark, bizarre, sad, captivating...Dunn captures it all. This has been lingering on my shelf for years, and I need to face the fact that I'll never re-read it! Luckily, my good book buddy, Jarrod, has it on his wishlist, so this is going out as a very small "thanks" for always being willing to include my books in his M Bags! Thanks, Jare!
---
Trade paperback, 348 pages

Book description:
Geek Love is the story of the Binewskis, a carny family whose mater- and paterfamilias set out — with the help of amphetamine, arsenic, and radioisotopes — to breed their own exhibit of human oddities. There's Arturo the Aquaboy, who has flippers for limbs and a megalomaniac ambition worthy of Genghis Khan . . . Iphy and Elly, the lissome Siamese twins . . . albino hunchback Oly, and the outwardly normal Chick, whose mysterious gifts make him the family's most precious–and dangerous–asset.

As the Binewskis take their act across the backwaters of the U.S., inspiring fanatical devotion and murderous revulsion; as its members conduct their own Machiavellian version of sibling rivalry, Geek Love throws its sulfurous light on our notions of the freakish and the normal, the beautiful and the ugly, the holy and the obscene. Family values will never be the same.

---

Journal Entry
2
by

jare

from
Port Richey
,
Florida
USA on Wednesday, June 08, 2005

Wow! I have been wanting to read this book for many years now, I remember a friend reading it in high school and raving about how great it was! T'was on my wishlist, but now it's in my TBR! What a pleasant surprise to get me through another day at work (I took the package with me to work to open, helps the days go by in a more positive way). Thank you so much, Melissa!! Oh, and here is a picture of the author.
---

Journal Entry
3
by

jare

from
Port Richey
,
Florida
USA on Tuesday, April 10, 2007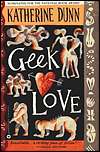 Just finished the book. WOW! Note to those next in line to read this.... do NOT, I repeat do NOT read the end of this book while on a break at work or in the middle of anything where you have to focus or concentrate! That being said, I loved this book. It has jumped way up near the top of my list of all time favorite books! Surreal and at times gross and disturbing, this book was so engrossing, so very hard to put down, and even harder to escape the story and characters. A rare thing happened with this book, the ending moved me to tears! I loved the way we had two storylines going, the past and the present, and each one had it's own massive climax! This story will stay with me for a long time, no doubt about that. Oly, Arty, Crystal Lil, Papa, Elly and Iphy, Chick, Horst, Doc P., the "admitted", the redheads, and Miranda will be hard to forget or let go of.
I will be sending this book off to my fellow weird fiction bud, firegirl soon!
---

Journal Entry
4
by

jare

from
Port Richey
,
Florida
USA on Monday, April 23, 2007

Sent via mail to firegirl today!
---


Oh yay oh yay! This arrived today and, despite the packaging's resistance, I was able to get it out and into my eager hands. I've come to learn that any "bizzare" fiction that Jare loves I will too, so I'm excited to read this. Thanks again!
---

As expected, I enjoyed this very much. It wasn't as gorey or graphic as some of the stuff I've read recently, which was kind of a nice change. The "twistedness" of this book is much more psychological which is, in my opinion, often more disturbing than gore. It was also unnerving to me when I really thought about it because, to be honest, I don't think the story line is that far-fetched. Dunn focuses on some of the worst truths of humanity: we can be greedy, selfish, vengeful, power-hungry, and easily swayed. One can't help but draw parallels between Arty's "Admitted" and real-life cults. People have historically been swayed/inspired/encouraged/whatever to do strange things by cult leaders -- take the Hale-Bop cult or David Koresh's people, as some extreme examples. (I could touch on more traditional beliefs and things done in the name of a god or gods, but I don't think I need to.)

Mankind is obsessed with the bizzare -- most people can't seem to help but stare at those that are handicapped anymore than they can keep themselves from rubber-necking at a car crash in hopes of catching a glimpse of something. Dunn captures this human trait very well, especially in Arty and the twins' sexual explotations. And people want to be accepted, yearn for it, in fact. It is an often exploited human desire, as this book easily points out.

Dunn does an amazing job with her characters. Each one is fully fleshed out and I found myself with strong gut feelings about, and emotional responses to, each one. Definitely a worthwhile read. I look forward to more by this author.

Thanks so much, Jare! I'll be passing this on to another BCer -- seems quite a few have this on their wishlist!
---


RABCKing off today to one of my favorite Canadian Bookcrossers. Enjoy!
---

I am so sorry! I have turned into such a horrible Canadian BCer! I completely forgot to register this one!

But now that it's in front of my face, it may be that much closer to the top of Mount Toobie!

Thanks for sending it my way, Firegirl!
---