Harry Potter and the Half-Blood Prince
Registered by

jare

of
Port Richey
,
Florida
USA on 8/22/2005
1 journaler for this copy...

Journal Entry
1
by

jare

from
Port Richey
,
Florida
USA on Monday, August 22, 2005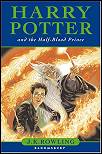 An early birthday present from
gillianne
! I'm not quite this far along in the series, but it's great to have it ready to go when I do get there!
Cover blurb:
The war against Voldemort is not going well: even Muggle governments are noticing. Ron scans the obituary pages of the
Daily Prophet
, looking for familiar names. Dumbledore is absent from Hogwarts for long stretches of time, and the Order of the Phoenix has already suffered losses.
And yet...
As in all wars, life goes on. sixth-year students learn to Apparate--and lose a few eyebrows in the process. The Weasley twins expand their business. Teenagers flirt and fight aand fall in love. Classes are never straightforward, through Harry receives some extraordinary help from the mysterious Half-Blood Prince.
So it's the home front that takes center stage in the multilayered sixth installment of the story of Harry Potter. Here at Hogwarts, harry will search for the full and complex story of the boy who became Lord Voldemort--and thereby find what may be his only vulnerability.
---

Journal Entry
2
by

jare

from
Port Richey
,
Florida
USA on Saturday, January 07, 2006
At the moment, I'm still a bit too stunned to write much about this one. Excellent book, just very emotional and far too much for me to digest and spit back out immediately. I'll be adding more thoughts on this one soon.
---

Journal Entry
3
by

jare

from
Port Richey
,
Florida
USA on Wednesday, May 06, 2009
Wow, it sure took me a long time to think this over and make some comments, huh? Ha! I thought I had, but apparently did not. The movie comes out in a couple months, and while watching a preview, I realized I had forgotten a lot of the events in the book. So I listened to (thanks to my local library) the auido book version of this. I enjoyed it just as much, what an excellent and moving story. The climax wasn't as upsetting to me this time around, having read the final book where things were really tied up neatly (for the most part), but still moved me to tears.
---