Lolita (Vintage International)
3 journalers for this copy...
I read it long time ago and I remember liking it a lot. With a slight feeling of disgust. Definately worth reading.
---
Mount TBR just erupted: I received a slew of books in the mail today, this one among them. Thanks for sending it!

I added this to my wishlist after reading Reading Lolita in Tehran at the beginning of the year. Since then I have watched both film adaptations of this book, and now I will be interested to read the real thing, which I'm sure will be much better.
---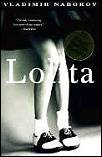 I absolutely loved this. I can't believe I have never read it before. But actually I don't think I could have read this book in the past without identifying with Lolita as a victim and feeling outrage at the injustice of it all.
Yet now I was able to enjoy the writing, and feel the pathos of Humbert Humbert's tragic obsession and the comic sensitivity and tenderness that renders him so ineffectual at getting what he wants.
---
Mailed to Pulpmode, a local BookCrossing friend who has been wishing for it at www.cliff1976.com.
---
I must confess to actually getting the book last week, but only just now acquiring online access to journal it. THANK YOU FLASHGIRL for sending me this book! I'm excited to read it (and a bit hesitant to do so in public) I have added it to an ever growing TBR pile that neither the bus nor the rail seem to allow me much time to conquer lately. I will journal again once I've read it. Again FG, thX & peace!

---