Sunglasses After Dark
Registered by
AliceF
of
Coventry
,
West Midlands
United Kingdom on 4/15/2005

This Book is Currently in the Wild!
5 journalers for this copy...
Well it's not really a *horror* book, but being about vampires, it's the only logical category for people who may be looking for this kind of thing.

It's an excellent book; having read several vampire authors (both famous and not), this is definitely my favourite: a believable character, pacy prose and intelligent twists. Oh and not just for goths, by any means! :-)
---
On its way by post to indigorage in Benton, Arizona, USA.
---
Thanks very much for the RABCK! It arrived yesterday.
---
My search for good vampire stories continues with reading Nancy Collins' offerings to the genre. I'd first heard of Sonja Blue from a short story Collins wrote for The Vampire Sextette, which was one of the few stories I actually enjoyed from that collection. The novel did live up to my expectations for the most part, but some of the structuring seemed a bit awkward and almost amateur. It's early in the series, so hopefully the immense "flashback infodump" section that dominated this book will not be a problem in later books. The novel would have been far less jarring and less "infodump" feeling if it had started with Sonja's conversion as a vampire and worked forward chronologically. But because it starts in the present, then takes a huge leap into the past, it felt awkward and a bit gimpy. There are also point-of-view issues, with a bit of head-hopping that really made no sense other than the author not being able to figure out how to convey her message through one or two central characters' viewpoint. It is very adult in nature - Sonja has a history as a prostitute and killing scenes are extremely graphic. The world itself intrigued me - Pretenders living among humans and passing as human - and I'm rather curious to see what the significance of seraphims will turn out to be. Finish Date: 9 Aug 05
---
Mailed yesterday as a RABCK to Jengif. Enjoy!
---
Sunglasses After Dark arrived safely in Virginia today. Thank you, Indigorage, for a great RABCK!
---
Sunglasses After Dark wasn't bad at all for a first book. It definitely had iffy spots where the dreams fought with reality and the writing left me confused. The story was interesting and quite creative. I especially thought Collin's idea of a "real world" was novel. Collins brought a different approach to the vampire story and for the most part, it worked.
---
Mailed to Nicolesinger in North Carolina. Happy Holidays!
---
Thank you, Jengif!

This arrived earlier this week, but finals week kept me from journaling as quickly as I should have. This looks like a fun, quick read - just right to keep me busy over the break. I'll read and pass it on.
---
It took me a long time to get into this book - more than once I picked it up and tried to get started but ended up putting it down. It really picked up in the middle - the idea of the Real World and the Pretenders (and the variety of Pretenders) was intriguing.

I thought the confrontation at the end was too stagy, and at the risk of spoilers, I thought it was with the wrong person. I think I'd have enjoyed the story with more exposition about the Pretenders and less of the final confrontation.

I didn't really notice the head-hopping. I'm okay with omniscient third, though I think I got confused once as to who was thinking. The huge long flashback was an interesting way to handle the backstory, maybe not the best way, but I could see why Collins did. The thing bugged me was incredibly picky - she'd be humming along in past tense and all of a sudden throw in, "that's what ___." Argh! Tense shift! Tense shift! I guess I can blame my writers' group for that knee-jerk reaction.

All in all, not a bad first novel. I'll have to be on the lookout for subsequent books by Nancy Collins. Thanks, Jengif (and previous readers), for sharing it with me. I'll leave it available until I decide where and to whom to pass it on.
---
Requested by c-a-m in Australia. As soon as I can swing the postage, the journey will continue...

Update June 5, 2006 - I have not heard from c-a-m since late April, when I requested an address and tried to work out postage. I can only assume s/he is no longer interested.

KarmelK is seeking books with 4 or more journalers for the Well-Travelled Wild Release Challenge, and I am sending it tomorrow. Have fun!
---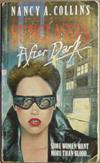 Thanks NicoleSinger for sending me this book, I think.
Not really the kind of stuff I read, but we both knew that.
Planning to release it for the Well-Travelled Wild Release Challenge.
Now, what kind of a field trip can I take this one on?
The cemetary won't work for this one, I think she needs live bodies.
Somewhere where they sell sunglasses at night. Or a bloodbank. Or the lab at a hospital where those vampires in white coats take blood. I'll have to ponder this one!
---

Journal Entry
13
by
KarmelK
at
Greyhound Bus Terminal on Cortland in Jackson, Michigan USA on Thursday, June 15, 2006
Released 13 yrs ago (6/15/2006 UTC) at Greyhound Bus Terminal on Cortland in Jackson, Michigan USA
WILD RELEASE NOTES:
---