Robert Gernhardt
5 journalers for this copy...
Humoresken aus unseren Kreisen.

Robert Gernhardt habe ich in der Schule beim Literatur-/Theater-Kurs kennen gelernt und habe dann drei vier Jahre lang mit begeisterung alles verschlungen, was ich von ihm in die Finger bekam.
---

Das Buch ist bei mir angekommen.
Danke fürs Schicken...
Werd's schnellstmöglich lesen...

edit 20.10.
Es hat jetzt doch ein bisschen länger gedauert das Buch anzufangen, obwohl es ja nicht wirklich umfangreich ist ;-))
Die Geschichten waren alle sehr interessant, am Besten haben mir gefallen:
Mein Buch, dein Buch --> genauso habe ich mir ein Treffen zwischen zwei Autoren immer vorgestellt
Fremde Namen --> bei dieser Geschichte hatte ich irgendwie ein Deja-Vu-Erlebnis - ich habe nämlich auch jemanden im Bekanntenkreis, der immer alles verbessern muss bzw. die Aussprache besser weiß
Kinder, Kinder --> fand ich sehr verwirrend: Also wer jetzt mit wem?

Das Buch reist zusammen mit Jane Eyre zu Popitze. Ich wünsche viel Spaß mit den Humoresken.
---

Ganz unverhofft ist heute dieses kleine Büchlein zusammen mit "Jane Eyre" aus dem Umschlag geplumpst. Vielen Dank für das Überraschungsbuch, babytiger!
04.09.2006
Ich habe das Büchlein schon länger ausgelesen, hatte nur immer wieder vergessen (oder verdrängt?) einen Kommentar dazu zu schreiben. Nu aber!
Zwar bin ich fast sicher, dass Gernhardt die intellektuellen 68er nur verballhornen will, aber ich finde es so überzeichnet, dass ich schon wieder befürchtet habe, dass er das ernst meint. Alleine die Vorstellung, dass es vielleicht wirklich Leute gibt die
so
drauf sind...
Da ich sowieso kein großer Freund von Problembüchern bin und mir diese "Kreise" sehr fremd sind, fand ich das Buch nur wenig humorig.
Bleibt zu hoffen, dass mein anderes Gernhardt-Buch, welches ich kürzlich geschenkt bekommen habe, mir mehr zusagen wird, sonst liegt's vielleicht doch an mir... ;-)
---

Journal Entry
4
by
Popitze
at
sent to fellow BookCrosser in Duisburg, Germany -- Controlled Releases on Tuesday, November 14, 2006
Released 13 yrs ago (11/14/2006 UTC) at sent to fellow BookCrosser in Duisburg, Germany -- Controlled Releases
WILD RELEASE NOTES:
RELEASE NOTES:

Reist zusammen mit einem Buchring zu ioanaDE. Ich hoffe sie kann was damit anfangen und hat es noch nicht gelesen. Gute Reise, Buch!
---
Huch, ein blinder Passagier ist beim "Wunderbaren Massenselbstmord" mitgereist... danke schön! :)
---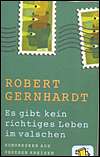 I was given the book by the previous keeper directly. There is this great passage about how the people in power will misuse the current environmentalism to gain even more power. So I'll give it to someone who doubts that. And I hope that he passes it on after reading and many more people will have a chance to read it!
---