ANNE FRANK: DIARY OF A YOUNG GIRL
6 journalers for this copy...
Always a classic. Must read for every school child
---
Sending this one off to a fellow book-crosser!
Can't wait to see where it winds up after that!
:-)
---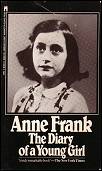 Thanks for the trade flutterby27! I can't wait to read this one, we had to read it in English lessons at school but I was only about 12 and have been wanting to re-read it for the past few years.
---
Re-reading this book was excellent!

Now I have children of my own it makes it just that little bit more painful to read especially when Anne is commenting on what she wants to do with her life, become a writer, journalist or published author. It's weird to think that she got her wish on this one.

Then there are her hopes and dreams for the usual things in life like seeing her friends again, getting married, etc. It's galling to know that none of these things did happen or can ever happen. So very sad.
---
On it's way to KarmelK and RitnMMK as part of the 'Well Travelled Release Challenge 2006'.
---
We got this in the mail today.
Mom says I can read it. I'm going to try. Thanks Jenny and Nelly.
For the WELL-TRVELLED WILD RELEASE CHALLENG.
---

Journal Entry
7
by
KarmelK
at
Well Traveled Wild Release Challenge Member in Media Mail, USPS -- Controlled Releases on Friday, September 15, 2006
Released 13 yrs ago (9/16/2006 UTC) at Well Traveled Wild Release Challenge Member in Media Mail, USPS -- Controlled Releases
WILD RELEASE NOTES:
RELEASE NOTES:


---
Caught in the mail as part of the 'Well Traveled Challenge'.
---
I've been wanting to read this book for a long time. I have watched to movie, and read a scrapbook-ish thing about her life, but never the actual book. So I am glad I finally had the chance! Anne Frank had great strength when times were incredibly tough, and even though she had a nice comfortable life in the beginging she wasn't the least bit spoiled. I'm glad her dream of becoming famous came true after all.
---

**Sent to the winner of the Kids BookBox - littleminx**
---
Thank you so much! I've read this book a long time ago, but I'm going to add it in on my TBR anyways so I can re-read it. =)
---