The Bird Man and the Lap Dancer : Close Encounters with Strangers
5 journalers for this copy...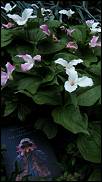 I got hooked on Eric Hansen through deenbat's bookring,
Stranger in the Forest
. Since then I've read all his other books, which I found well-thumbed in my local library. This is his most recent effort--a series of essays based on his peregrinations. I greedily read the first essay just now, and I enjoyed it so much I've already rated the book a nine.
---

Each chapter is a different story encapsulating an episode in the author's life. The stories have in common Eric Hansen's uncanny ability to find and befriend unique people, and to do so in underexplored and interesting parts of the world. I think of Hansen as a kind of cultural speluncker.
The first story is charming and O'Henry-esque. Others are touching and sad, funny and interesting, and each comes from a different, unusual perspective--trades and places we don't hear much about. It covers Mother Teresa's Home for the Dying and Destitute, a stripper, a birdwatcher and banana slug afficionado, a Russian Princess in a New York ghetto, fishermen in the Maldives, a bereaved husband in Borneo. This list makes the book sound trite and superficial--it's not. If you are an armchair traveler of the most adventuresome kind, you're bound to relish this book.
You might be interested in Powells' wee little
interview with Hansen
.
---
Mr. Ebumu is fitfully reading this now, then I've promised it to my friend Charomyces, who claims to be a fearful traveler. Despite this fact, he has managed to go to very many interesting places.
---

Journal Entry
4
by

AnonymousFinder

on Thursday, May 26, 2005
My wife passed this one along to me, and then bugged me to read it quick so she could send it off.

I really enjoyed this book. A series of vignettes, of various length, all brimming with humanity and a warm affection for the amazing variety and quirkiness of life in different parts of the world. The author seems to have an astonishing knack for finding interesting people and getting them to trust him.

the read is light and engaging, and the reader feels slightly more worldly and slightly more fond of humanity by its end. Highly recommended.

CAUGHT IN ITHACA NY USA
---
Mailed today to Charomyces, first class. After he's done I hope to sign up some bookcrossers for a bookring.
---
Received from my Samoyed buddy by mail four days ago, but I've been teaching this week and away from computers, so a delayed journaling for the book. Looks truly interesting. Today I got invited to go on a deep sea fishing expedition in Hawaii... perhaps this will give me a story something like what I expect to find in this book (but probably not). It has been quite a BC week for me, two book ring/rays received and one wild catch...

Thanks Mr. and Mrs. Ebumu
---
This book wants to be shared, so after Charomyces and Mrs. Charomyces are done with it, this is to head off as an international bookring, ending up back home with me, Ebumu. Here is the tentative order:
catsalive
(Australia)
alwaysmiling
(Australia)
Hotfrog
(Australia)
pammykn
(USA)
morpha
(USA, ships domestic)
Ramya
(USA)
deenbat
(USA, wishes to be toward the end)
ldpaulson
(USA, wishes to be last)
Lastly, back to me,
Ebumu
(USA)
Bookring participants, please journal on receipt, then read the book within a reasonable length of time, hopefully not over a month. PM the next person for their address as you're finishing it, and mail it on promptly. Do leave us all a thoughtful or quirky review to enjoy.
---
Unfortunately, I ended up reading the penultimate chapter of this book while sitting in a taxiing jet plane on the runway in Detroit. The chapter, concerning the attempts of a bereaved husband to find his deceased wife's engagment ring at a the site of a plane crash on a mountain in Borneo, was fodder for my travel anxieties mentioned in the Ebumus' posting. However, this book was a quick and otherwise enjoyable read anyway.

The chapter "Life Lessons from Dying Strangers" concludes with the lines, "... I joined this sea of humanity with a calmness, clarity of purpose, and a lightness of being that have never left me." A nice set of thoughts... but despite the author's avowed clarity of purpose, I did not get a coherent picture him by reading this book. Perhaps this is incentive to read more of his work (I think I will), but there is a coldness and surrealism to parts of this book that I can only compare to some J.G. Ballard.

This book now flies to Sydney, Australia in the hands of a personal courier, and interesting person in his own right. Let's see what catsalive makes of this!
---

Received from Charomyces' colleague today. Brett thinks BC an interesting concept but have you signed him up yet? Thanks to everyone involved in getting this to me. You need some more Aussies on this list of readers.
---

Blurb from cover:
Eric Hansen is an intrepid traveler with a keenly perceptive eye and an appreciation for the odd and unusual. He will go anywhere and try anything. Through it all he manages to capture the most revealing conversations and the most transporting moments in his travels, from the Maldives to Sacramento, from Cannes to Borneo and far beyond.

Hansen writes about the mind-altering experience of drinking kava in Vanuatu and about heartrending moments working at Mother Teresa's Home for the Dying Destitute in Calcutta. He joins a grieving husband searching for his dead wife's wedding ring at a crash site in the Borneo rain forest. He recounts his miraculous survival od Cyclone Tracy on a fishing boat off the north coast of Australia, and he befriends an elderly Russian woman who would prepare catered dinners for George Balanchine and Igor Stravinsky in her tiny Manhattan kitchen while drug dealers were shot to death in the downstairs lobby. He spends time with an ornithologist who studies endangered ants and the sex lives of banana slugs - and takes topless dancers on bird-watching expeditions.

Each essay is a passionate experience of life refracted through the eyes and voice of a singularly evocative and original writer.

--------------------------------------------------------------------------------------

I've only read the first couple but I have to agree that they are evocative. I loved the first one "Arlette and Madame Perruche".
---

Some people lead fascinating lives, don't they? What a lot of interesting people Hansen has met, and amazing things he has done in his life.

Apart from "Arlette and Madame Perruche", my favourite vignettes were "Life Lessons from Dying Strangers", "Cooking with Madame Zoya" and "The Ghost Wind". The people in these stories are wonderful. I love that the Dewa Ruci won and can see why Hansen had to ask himself, "Who made this movie?"

I would read more of his writing if it came my way because the people he meets are worth reading about.

Thanks, Ebumu. I'll be sending this to alwaysmiling tomorrow.

Posted 27/7/5.
---
Oh no! a stalled bookring. The book was mailed to alwaysmiling, who hasn't journaled it and who doesn't respond to PMs. I hope this book will resurface sometime so that others who signed up for the ring can read it.
---

Another bookring that didn't make it very far. Where is this book? Is it lost in the mail or has it met some other fate? The Lost Book Island throws open its doors and allows this book to come and stay. There are many things to do here on the island including fun on the sandy beaches and cool drinks in the shade of palm trees.
It is hoped that one day soon this book will get the chance to return to its planned bookring travels and will once again check in with all of us with a journal entry.
---