South of the Border, West of the Sun : A Novel
Registered by
tho
on 3/5/2005
5 journalers for this copy...
To be read ....

Editorial Reviews
Amazon.com
In South of the Border, West of the Sun, the arc of an average man's life from childhood to middle age, with its attendant rhythms of success and disappointment, becomes the kind of exquisite literary conundrum that is Haruki Murakami's trademark. The plot is simple: Hajime meets and falls in love with a girl in elementary school, but he loses touch with her when his family moves to another town. He drifts through high school, college, and his 20s, before marrying and settling into a career as a successful bar owner. Then his childhood sweetheart returns, weighed down with secrets:

When I went back into the bar, a glass and ashtray remained where she had been. A couple of lightly crushed cigarette butts were lined up in the ashtray, a faint trace of lipstick on each. I sat down and closed my eyes. Echoes of music faded away, leaving me alone. In that gentle darkness, the rain continued to fall without a sound.

Murakami eschews the fantastic elements that appear in many of his other novels and stories, and readers hoping for a glimpse of the Sheep Man will be disappointed. Yet South of the Border, West of the Sun is as rich and mysterious as anything he has written. It is above all a complex, moving, and honest meditation on the nature of love, distilled into a work with the crystal clarity of a short story. A Nat "King" Cole song, a figure on a crowded street, a face pressed against a car window, a handful of ashes drifting down a river to the sea are woven together into a story that refuses to arrive at a simple conclusion. The classic love triangle may seem like a hackneyed theme for a writer as talented as Murakami, but in his quietly dazzling way, he bends us to his own unique geometry
---
Loved this book ... especially the first part when Hajime and Shimamoto are children :-) More comments later...
---

A loan from tho. To be read asap.
---
Again, a special focus on a girl with an uncommon characteristic, this time a physical problem. She limps and, oddly, that's a main issue in the whole story for Hajime: it attracts, it's a recurring memory, it's a recognition sign. This a story about love, compromise and misunderstanding. A loveable book.

Murakami is a GREAT author. A marvellous writing ability, there's no need or use for grammar/vocabulary knowledge demonstrations in his work. His marks are a simple style, extraordinary story-telling, and most important: characters with Depth. All the important characters in his books are turned into vivid people, not ordinary people though. What I've read by Murakami so far (4 books) has the following common patterns: solitude, love, book-lovers, music, and plain sexuality, without ridiculous metaphors. Advise to everyone: read Norwegian Wood (thanks Malena and Tho).

******* SPOILER ALERT ******** The guy that gave money to Hajime was a little too off-the-track for me. Real life is like that sometimes (unfortunately not the money part but the not understanding the connections), but still... my comment on that is: what?! =)
---

My 2nd Murakami book, and sooo much better than Sputnik Sweetheart. I liked that one, but was a bit dissapointed after all the good things I'd heard from Murakami. NOW I'm starting to understand why he's so famous... Last night I was awake until 2am to finish this book and it was worth it! I was quite touched by the relationship between Hajime & Shimamoto and their dialogues are so inspiring! Murakami does have a unique way of telling stories - but what's this obsession with women who disappear??

After having read some more books I'll be sure picking another Murakami from my TBR mountain :)
---
This book made its way into my bag and I'm not really sure how! ;o)
---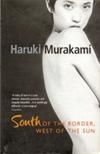 I loved
Sputnik Sweetheart
and I liked this one even better. Murakami has an enchanting and special way of telling stories and I certainly want to read more of his books. In this book he transforms something so common as a man's midlife crisis into a magical tale, and as in
Sputnik Sweetheart
we are left wondering what really happened in the end. I'm with
mady
on this one, what's with the disappearing women?
Thanks for the loan
tho
!
---
---
I think, I am becominhg a fan of Haruki Murakami ;)
---