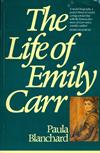 The Life of Emily Carr
3 journalers for this copy...

An old Quality Paperback Book Club acquisition which has been sitting on my shelf for far too long. I'll be offering this one up to anyone interested.
---
I'm sending this book to
silentmiaouw
as a RABCK -- I hope you'll enjoy it! Best wishes from New Westminster, British Columbia.
---

It arrived! How wonderful, thanks, goatgrrl - and for the bookmarks. I'm really looking forward to learning more about Emily Carr.
---

A very meaty book, it took me quite a while to read it but I had time this past week as have been convalescing. Emily Carr was certainly a special person, a precursor in her art and often much misunderstood by her family and critics. I was just a little disappointed that there were not many photos of her artworks, will have to forage around some more to find more books about her. It is quite fascinating to see her in the context of contemporary artists such as the Fauvists.
This is now going to Tarna in Finland who has "anything by Emily Carr" on her wishlist.
---

Journal Entry
5
by

Tarna

from
Tampere
,
Pirkanmaa / Birkaland
Finland on Thursday, February 07, 2008

Yay! It's here! Thank you, silentmiaouw! I'm so excited... To tell you the truth, I just heard about Emily Carr a few months ago when
chelseanadine
suggested I might like to read something by her. I immediately added Carr on my wishlist. Haven't found anything by her yet but, actually, I think that's good. I read the Introduction, looked at the pictures, (I just
love
those old black and white photos!!) and browsed through
The Life of Emily Carr
, and I think it's the best place to start. It's gonna take quite a while before I'll get to read it, I'm afraid. So many things to do, so many books to read, like we all have. But it's worth waiting for, eh?
Thanks also for the bookmarks (Nunavut & Gold of Africa Museum — great!) and for the most amusing postcard ever. I love it! It reminds me that Valentine's Day is pretty near, even though here in Finland it's more a day for friends than lovers. (Still, all over shops and department stores you see just heart shaped boxes of chocolate, stuffed animals carrying red or pink heart, etc. For your
friend?!
) Anyway, I did scan the cover of this book (and also the self-portrait by Emily Carr on it) but in this entry I'm going to show you the postcard. We all could use a good smile every now and then, eh? :D
Happy Valentine's Day! (It's called
ystävänpäivä
in Finnish, btw, Day of Friends.)
EDIT. You'll see the postcard more clearly if you click the picture to enlarge it.
---