Dictionary Of The Khazars
4 journalers for this copy...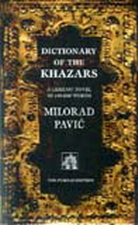 THIS IS HOW IT LOOKS OUR EDITION
Pavic is one of the greatest Serbian writers and my favorite. Because of that I'll put what others say about "Khazars":
A national bestseller, Dictionary of the Khazars was cited by The New York Times Book Review as one of the best books of the year. Written in two versions, male and female, which are identical save for seventeen crucial lines, Dictionary is the imaginary book of knowledge of the Khazars, a people who flourished somewhere beyond Transylvania between the seventh and ninth centuries. Eschewing conventional narrative and plot, this lexicon novel combines the dictionaries of the world's three major religions with entries that leap between past and future, featuring three unruly wise men, a book printed in poison ink, suicide by mirrors, a chimerical princess, a sect of priests who can infiltrate one's dreams, romances between the living and the dead, and much more.
"All its delights...the structural novelty and the comic inventiveness of the imagery...[are] an ebullient and generous celebration of the reading experience."
--- The New York Times Book Review
"As with Borges or Garcia Marquez...[Pavic] knows how to support his textual legerdemain with superb portrait miniatures and entrancing anecdotes."
--- Washington Post Book World
"There are books provoking in the reader something like a chemical reaction...Dictionary of The Khazars contains such a "poison""
--- Mainichi Shimbun, Japan
"Pavic is the author of the first book of the XXI century"
--- Paris Match
---
Here you may see what Amazon tells about this novel:
Amazon about Dictionary of the Khazars
And one more thing; This is the MALE edition but don't worry if you're opposite sex. There is a difference between Male and Female edition but is minor.
If you still have doubts about it please visit this:
About Book's sex...
_____________________________________________________________________________________________
This is Milorad Pavic!
_____________________________________________________________________________________________
---

Welcome to my FIRST international Book-Ring!
The Ring is underway as of 23 April 2005.
This is the mailing list. There will be no changes; all additional participants (if any) will be put at the end of the list!
Once again thank you for joining in my FIRST Book-Ring! I hope it will satisfy your expectations.
Cheers!
Member/Location
1.
concertina8
, Viena - Austria (read and released)
2.
-BookHaven-
, Porto - Portugal (read and released)
3.
TonyAlmeida
, Coimbra - Portugal<---- Ring Killer!!!
:::::::Second Copy of the Dictionary!:::::::
<------ Click here!
4.
CatharinaL
, Tampere - Finland
5.
Koalabare
, Surrey - UK
6.
ziggythecat
, Leicestershire - UK
7.
ScottishHoosier
, Westhill - UK
8.
Semioticghost
, Ipswich - UK
9.
Amanida
, Chertsey - UK
10.
coolboxuk
, Chertsey - UK
11.
Hexa
, London - UK
12.
zugenia
, Rhode Island - USA
13.
greedyreader
, New Jersey - USA
14.
Ramya
, New Jersey - USA
15.
glade1
, North Carolina - USA
16.
therubycanary
, Tennessee - USA
17.
cordelia-anne
, Georgia - USA
18.
Rico-Verde
, Florida - USA
19.
icekween01
, Missouri - USA
20.
sqdancer
, Alberta - Canada
21.
MollyGrue
, Washington - USA
22.
ldpaulson
, California - USA
23.
1ce-Upon-A-Time
, California - USA
24.
debnance
, Texas - USA
25.
dospescados
, New York - USA
26.
Rrrcaron
, New Hampshire - USA
27.
Neuilly
, Maine - USA
28.
tantan
, Queensland - Australia
29.
caffcaff
, Rochester - UK
30.
MyopicMeringue
, Surrey - UK
31.
lizzy-stardust
, Manchester - UK
How it works?
- Please make a journal entry when you receive the book, enjoy, and after reading please do share your thoughts about it with others.
- When you're ready to release the book, send a PM to the next person on the list asking for her/his address.
- It would be ideal to keep book no longer than a month-month and a half, but if so please make a journal that Ring is still alive.
- If you are the last person on the list, please PM me for my address.
I hope you'll enjoy in this book/dream as much as I'm enjoying
---
Released 14 yrs ago (4/23/2005 UTC) at
WILD RELEASE NOTES:
RELEASE NOTES:
Khazars has been sent to the first participant of the ring...concertina8
ENJOY!
These are photos from
"Dictionary Of The Khazars"-theatre play
, very ambitious project with best actors, dancers, costume designers, musicians, ...with all bests, which had enormous success.
The scene was in one huge iron cage (observe last photo) and the audience, only 365 - one person for each day in the year, was around that cage in several (cannot remember how many) floors. Seats were part of outside wall of that cage. This was the most unusual and original performance based on some book (including movies). Just as you are watching your own or someone's others (which was freaky too) dreams. One experience which is impossible to describe because I felt unique flavor in my soul's mouth! You would have your own (and you'll find it among the pages) but this one was intended just and only for me, same as the flavor of Dictionary's pages...
---
received this in the mail yesterday and it couldn't have come at a better time, as i just finished with another bookring-book. i already peaked into it last night and from the first couple of pages this looks like something i will enjoy a lot.

thx for sending/sharing/inviting/organising Milan/zzz!!!

updated may 17, 2005:
finished reading this book over the (extended) weekend.

wow! strange one, this.

*no spoilers here*

of course i read the book back to front (like you do ;-)) and not jumping and cross-checking entries from the different parts of the book. now that i finished it i would like to re-start and do just that - compare the different takes on the same topic and re-read some of the little stories and legends included. but - since this is a bookring and i do realize the list is *very* long indeed - i will be a good girl and send this off to portugal today.

however, if i ever happen upon a german translation of this book, i will probably buy it to keep for myself. also, i am somewhat interested, how exactly the female version differs from the male one. as i understand it's - what - 17 lines (?) in one of the letters towards the end of the yellow book. what are those lines that make the book "female" rather than "male". the letters in question are written by a woman, right? so where would the "male" take come from. i know, i know, this is a work of fiction and all, but still...

obtaining a (german) copy of the dictionary will be hard enough, as is appears to be out of print and i wasn't even able to locate a used copy via the internet. well, i'm not in *that* much of a hurry, but it would be nice to have this one for my PC, eventually.

to finish off my entry, which is confusing and long(ish): i loved the dictonary. for reasons i can't really put my finger on i enjoyed reading "the green book" the most. maybe because it trailed off into legend more often than the other two parts. it was also nice, to read little bits and pieces about my own countries history (the austro-turkish wars) and (very little, but still) about the city i live in (vienna).

referring to the very beginning of the book: i didn't die. no poisonous ink here.

i want my own copy!!!

.....


sometime later:
I FOUND IT!!! YEA!!!


.....

zzz thank you so much for sharing!
---
Journal Entry
6
by
concertina8
at
by mail in To the next participant, A Bookring -- Controlled Releases on Tuesday, May 17, 2005
Released 14 yrs ago (5/17/2005 UTC) at by mail in To the next participant, A Bookring -- Controlled Releases
WILD RELEASE NOTES:
RELEASE NOTES:

off to portugal!
---
It arrived yesterday.
I'm really thrilled with the idea of reading it! anyway, i'm finishing one ring, and have another one, so in a week, week and a half i'll start reading it.
thanks a lot zzz and concertina8!

---
Well, i must say, what a wonderful challenging book!
i read it backwards and then comparing the entries from the three different books.
i'm truly amazed by it.
and how lucky you are milan, that you could see staged - that must have been amazing.
i really did enjoy it. i hope it gets translated into portuguese, as i do think it will be a huge success around the world.

it is already traveling to TonyAlmeida.

again, thanks a bunch for sharing and introducing me to this fabulous author.
---
Well since TonyAlmeida has decided to kill this ring too, just as all (ALL!) previous rings and rays in which he participated I decided to buy new copy as a replacement since it is very important to me that this great book reach all of you on the list.
This is link for
Second Copy of the Dictionary!
---

Journal Entry
10
by

AnonymousFinder

on Tuesday, December 23, 2008
Ya he oído hablar en Bookcrossing pero esta fue la primera vez que encontré un libro.
¡Que interesante!

CAUGHT IN SANXENXO GALICIA ESPAÑA
---