Swan Song
Registered by
Muggenlip
of
Tilburg
,
Noord-Brabant
Netherlands on 1/19/2005

This Book is Currently in the Wild!
5 journalers for this copy...
Horror in paperback met goedkoop omslag. Voor de liefhebber denk ik. Iets over de wereld na de bom.
---
Journal Entry
2
by
Muggenlip
at
OBCZ Café Averechts in Utrecht, Utrecht Netherlands on Sunday, January 23, 2005
Released 15 yrs ago (1/23/2005 UTC) at OBCZ Café Averechts in Utrecht, Utrecht Netherlands
WILD RELEASE NOTES:
RELEASE NOTES:


---
Another one of the haul from the meeting ;-). I have some second thoughts about this. It seemed like some sort of futuristic fantasy-like thingy, but after a housemate mentioned it resembles Stephen King, I realize I may have misunderstood. I guess I'll still read it - in summer, when there's less darkness around ;-) - and I'll just have to see if it's any good to me.
---
It turned out that I had my second thoughts for nothing: I thoroughly enjoyed the book. It's not really horror, though; it's more like a thriller, with some small parts that are somewhat gruesome (but not too scary).

Most of the book is pretty realistic, in a way. It's a chilling description of American society after an all-out nuclear war. The earth is poisoned, nuclear winter has set in, people live in make-shift little settlements, mostly consisting of trailers or old shacks. Life consists of little more than trying to survive.
Against this background, two groups of people, two views are struggling to make a new world: military men start new armies and try to conquer the "world" (i.e. USA), while peace-loving people try to knit some sort of society back together.

Through this semi-realistic scenario, however, there is a lot of magicky stuff. There's Swan, who has "the gift of life", meaning she can grow anything from almost scratch; there's a special ring, something in between a magic mirror and an enchanted weapon; there's the "Job's Mask" (beautiful name, by the way), that changes people profoundly (I'm trying not to give too much away here); and, most pronounced, there's the Man with the Scarlet Eye, which is evil incarnate (and obviously so!).
Although I felt the story didn't really need these magic/fantasy aspects, they're no problem. In some way, they do not really detract to the realisticity of the story (like they're some sort of lacquer on top of the real story).

The only thing that did annoy me, is that in the second part (set 7 years after the nuclear war) there's still petrol, cars, tinned food and similar pre-holocaust relics available. It just doesn't feel right that so much would still be available after so long a time! I know it's a tiny detail, but I'm a fussy little man at times...

Overall, it's a good book, though. It's well written, it has quite a nice storyline, with a few twists (although they're not truly unexpected) and even God makes an entrance (and I have to say, I love that one!). As I said, I did enjoy it!

Since I found a few wishes for this book, I'm going to offer it as a bookray (and hope it'll catch better than the last one I tried...).
---
---
It's on its way to lundi, so the ray is officially started. Enjoy the book!
---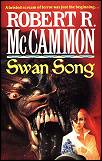 That one most certainly did not fit through my mailbox! Luckily I was at home when the postman arrived. Impressive cover as well. I will start reading tonight.
---
During the first part of the book, describing the horror of the world post-nuke, I was so swept away by the story that whenever I had to put down the book -like for sleeping, or going to work- I felt like I was living in two worlds at once. I was immensely grateful to see the sun and the living things in my one world, because my other world was dead and cold and even the air was poisonous. It was a weird feeling and I will not soon forget it. The story holds up to the end, but in the second part of the book the magic takes over a bit too much for my taste. But by then I had developed such loving feelings for the main characters that I wished them nothing but the best.
---
Received today. Thanks very much!
---
I completely forgot that I needed to send this, but it is finally heading off to France today. I'm really sorry about the delay!
---

just received it... Thanks.. it is not on top of my tbr list but i will hurry :-)
---

a very enjoyable book. It's frightenning to think that it can happen.I hope the next reader will like it as well
---

Journal Entry
13
by
aset01
at
Salle d'attente d'un médecin (à préciser) in Carpentras, Provence-Alpes-Côte d'Azur France on Friday, March 16, 2007
Released 12 yrs ago (3/16/2007 UTC) at Salle d'attente d'un médecin (à préciser) in Carpentras, Provence-Alpes-Côte d'Azur France
WILD RELEASE NOTES:
RELEASE NOTES:

Dans le cabinet (salle d'attente)
---